Executive Board Member Biographies
THEN/HiER's Executive Board includes faculty members and other professionals working in the diverse fields of history education, historical research, public history and museology.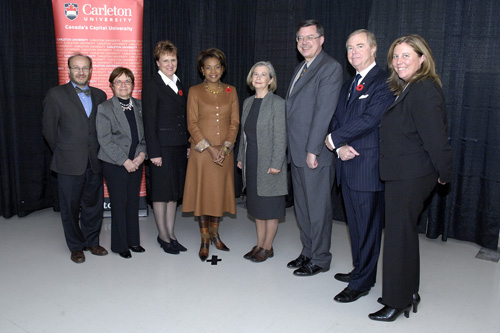 Her Excellency the Right Honorable Michaëlle Jean, Governor General of Canada, along with (from left to right) Dr. Jocelyn Létourneau, Laval University (THEN/HiER Executive Board Member), Dr. Margaret Conrad, University of New Brunswick (THEN/HiER Executive Board Member), Dr. Penney Clark, University of British Columbia (THEN/HiER Director), Dr. Ruth Sandwell, University of Toronto (THEN/HiER Executive Board Member), Mr. John Osborne, Dean, Faculty of Arts and Social Sciences at Carleton University, Mr. Don Newman, Host of Politics, CBC Newsworld and moderator of the discussion panel, and Ms. Deborah Morrison, President and CEO of Canada's National History Society, at the National Forum on Canadian History held at Carleton University on November 2, 2007.
Photo: MCpl Serge Gouin, Rideau Hall.