Thoughts about Congress 2014
Posted by
Dr. Rose Fine-Meyer
31 May 2014 - 7:05pm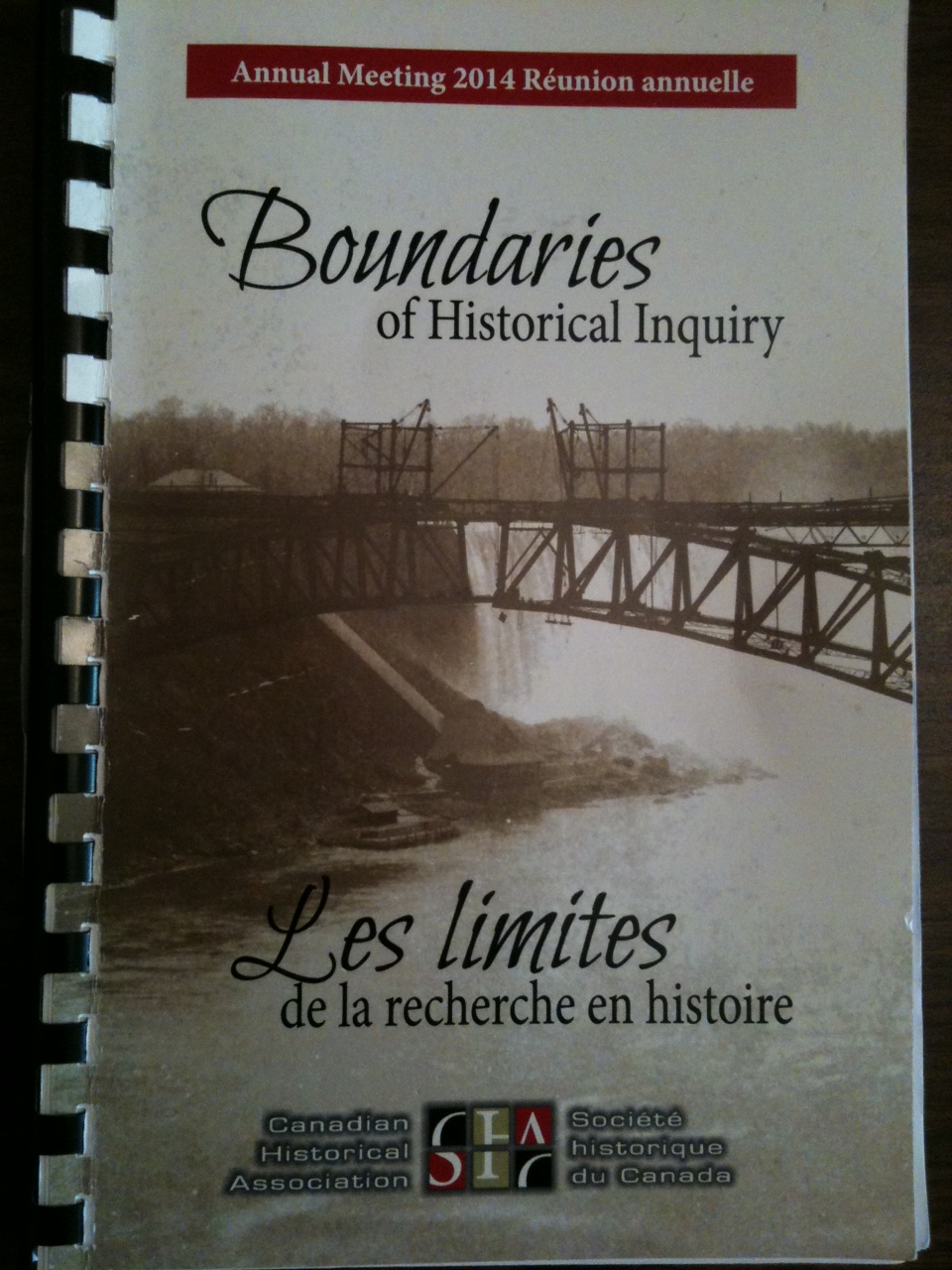 The theme for Congress 2014 held last week at Brock University was "Borders without Boundaries", appropriate for a university bordering the United States. I had the opportunity to present as part of a roundtable at the Canadian Historical Association (CHA)--their sub-theme: Boundaries of Historical Inquiry of course.
The big challenge, as always, was trying to 'do it all'--or even part of it. I found myself torn between simultaneous scheduled panels--sometimes forced to run between rooms or across campus. The range of topics covered at the CHA was staggering. Lyle Dick, Ruth Sandwell and John Lutz spoke about their trip to Rankin Inlet and the upcoming mystery for the Great Unsolved Mysteries in Canadian History project, the Enduring Franklin Mystery.
As always, the panels were varied, extremely rich and engaging, and reflected the depth of scholarship and engagement taking place in the field of Canadian history and the humanities more broadly.
Dinners and lunches with friends and colleagues make the Congress each year worth attending – and make the tiny, shared bathroom and residence rooms more bearable.
The CHA had their fabulous award night and we celebrated the best of Canadian history scholarship from 2013. The Canadian Committee for Women's History (CCWH) held a special dinner in honour of Bettina Bradbury as well as newly published books in the field of Canadian women's history.
There were many special events and talks; the "Big Thinking" talks have been recorded by the Federation and are available online. Check out Tim Cook's talk on soldiers' supernatural stories, "The borders between life and death: Stories of the supernatural and uncanny among Canada's Great War soldiers." Catherine Dauvergnetalk also spoke about the new politics of immigration, and Lawrence Hill's gave a talk called "Blood: The Stuff of Life."
I was fortunate to attend the "Big Thinking" talk by Benjamin Barber "If Mayors Ruled the World" on my last morning and had a chance to speak with him at a reception after the talk. He argues that nation/states are no longer relevant or capable of addressing local or global problems and that cities are doing a better job. The mayor of Calgary Naheed Nenshi, as well as other panelists also weighed in. While listening to the many examples Barber provided of successful mayors, I have to say I felt sad: I'm from Toronto. But my car ride home was filled with loud music courtesy of Mozart and plans for Congress 2015 in Ottawa. Already can't wait for it to arrive!
Photo: By Author.