Oral History at Concordia University (Steven High)
Steven High, Department of History, Concordia University, Canada Research Chair in Oral History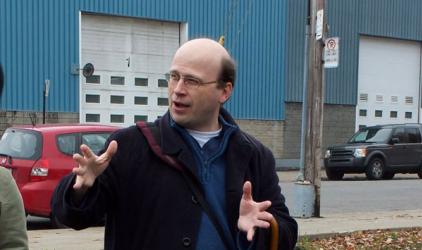 New forms of media are quickly changing the ways that we think about and do oral and public history; historians are now using a variety of digital technologies to record, organize, catalogue, interpret, share, and exhibit the stories that we collect. In oral history, we are in a transformative moment, especially when it comes to thinking about what happens after the interview. This is an important point: oral historians have been so focused on the making of the interview that we have spent remarkably little time thinking about what to do with the audio or video recordings. As Michael Frisch has noted, "[the] Deep Dark Secret of oral history is that nobody spends much time listening to or watching recorded and collected interview[s]." New digital technologies have made the intangible much more tangible in recent years. The result, according to Université Laval folklorist Laurier Turgeon, is a "new era of heritage." People are seeking a heritage that is interactive, participatory, and living. These trends have important ramifications for the history classroom.
Concordia University's Centre for Oral History and Digital Storytelling is home to over 200 faculty, students, educators, new media practitioners, activists, heritage and history organizations, and other community groups. This diverse community of practice is exploring the intersections between oral history, new media and the arts. The results are often inspiring.
The Montreal Life Stories Project, a large-scale Community-University Research Alliance (CURA) project, now entering its final year, is recording the life stories of Montrealers displaced by war, genocide and other human rights violations. These interviews are then integrated into online digital stories, audio tours, performances, art installations, exhibitions, radio programming and pedagogical resources. We have worked with two Grade 11 classes where students developed a year-long oral history project around this theme, producing a documentary film and exhibition. These projects won an award from the Oral History Association (USA) for the best example of oral history teaching in North America and Quebec's Force Avenir award for student engagement. You can view the Life In the Open Prison documentary on the Citizen Shift website. Another student, Paul Tom, won the animation prize from the Montreal World Film Festival in 2010. The Citizen Shift and Parole citoyenne sites also host our digital stories, co-produced with survivors themselves, and the podcasts of over 26 radio documentaries produced by our radio production team.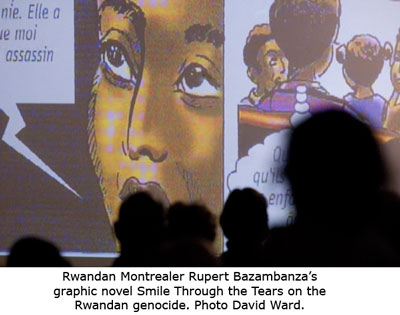 This past year I was invited to co-author a report and web portal on Oral History and New Media for SSHRC (available for download on our Oral Historian's Digital Toolbox site) that examines how digital tools are letting us access, share, locate, and archive stories like never before. This is a useful resource for teachers (as is our tips page). Meanwhile, our COHDS software development team recently released a new version of Stories Matter, a free open source oral history software developed in-house as an alternative to transcription. We have applied for funding to develop a new mapping memories tool that will enable us to geo-locate interview clips, thereby producing life memory mappings.
There are dozens of other projects, large and small, underway at the Centre for Oral History and Digital Storytelling. Here are five inspiring examples from the past year:
The student-based work on our Memoryscapes Website is just as exciting. My oral history syllabi are also available on our website.