Being Historically Connected (Anna Clark)
Anna Clark, Chancellor's Postdoctoral Fellow, Australian Centre for Public History, University of Technology, Sydney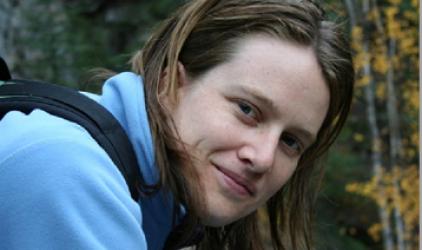 In 2003 I attended a seminar at Melbourne University by Elizabeth Elbourne, a visiting Canadian historian, who mentioned an episode of Australian colonial violence on a farm owned by the Rev. Thomas Hassall as a powerful emblem of colonisation. One elderly Aboriginal woman and two young girls lay dead, but no one was prosecuted. This was no isolated outbreak of racial conflict: European settlement had increasingly displaced Aboriginal populations in this area west of Sydney in the early nineteenth century; stock, hutkeepers and shepherds were in turn subject to increasing retaliation from traditional owners.
The Hassall name rang a bell. It was an old family on my father's side—the Hassalls were prominent landowners and missionaries in New South Wales in the early nineteenth century. So it seemed this crime had in fact happened on land owned by my family. Yet the story had never been passed on.
I was intrigued, and when I was next in Sydney, rushed to the State Library in a frantic bid to find out more. I became obsessed, rifling through old newspapers, colonial archives—any scrap of information I could get my hands on—to try and piece together this little bit of family history that also said so much about Australian history more widely.
In doing so, I also became interested in the question of historical connection, and what it means in our communities to be historically connected. On the one hand, we display an intense historical engagement: any visit to a local library or public archive shows ordinary people consumed with interest in their family and local histories. 'Where do I come from?' they ask. 'What is my story?' But on the other hand, there's a powerful public anxiety that we don't know enough about the past, that our national futures are being jeopardized by a grave historical ignorance that begins in school and extends into our lives as citizens.
Headlines proclaiming the latest 'disappointing' survey result or 'dangerous' level of national knowledge read like clichés. But as the Canadian history educationist Alan Sears has argued, so long as that discourse of 'crisis' dominates public debates about the past, a more reflective discussion about historical connection continues to be overshadowed.
My current research project uses interviews from communities around the country to examine historical consciousness in Australia today. As a way into some of those questions about historical connection (and disconnection), I've interviewed about 100 people from five very different communities around Australia about their attitudes to history. I want to probe that paradox of historical consciousness: despite the tenor of anxious debate over the national 'story,' personal historical engagement seems more popular than ever.
And, like my own urgent foray into my family's colonial past, it seems ordinary people also connect to their national histories when they can situate themselves and their own family stories within or alongside that national narrative. As Wai, from far North-Western Australia said in her interview, "When you can make a personal connection to history I think it means more to you than just reading about how Captain Cook discovered Australia." I'm only just beginning to write up this research, but I hope it can shed some light on some of those questions of what connects us to our national histories, and how.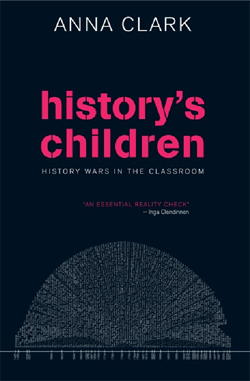 My publications include The History Wars (Melbourne University Publishing, 2003), which I co-authored with Stuart Macintyre, Teaching the Nation (Melbourne University Publishing, 2006) and History's Children: History Wars in the Classroom (University of New South Wales Press, 2008). I have also written two history books for children: Convicted! The Unwonderful World of Kids, Crims and Other Convict Capers (Chirpy Bird, 2005) and Explored! The Unglorious World of Burke and Wills, Rotten Food and Getting Lost (Hardie Grant Egmont, 2008).