Paul Zanazanian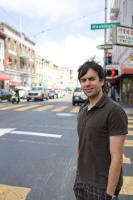 Universitaire, Éducateur/trice, Historien/ne spécialisé/e
Poste
Professeur/e, Autre
Historique
Membre depuis:
7 years 3 semaines
Renseignements personnels
Nom de famille:
Zanazanian
Établissement/Organisme:
McGill University
Département:
Department of Integrated Studies in Education
Intérêts:
Historical consciousness. The dynamics of inter-group relations. Identity and agency in terms of ethnicity and nationalism, as well as of teacher/educationalist professionalism. History teaching. History of education. Philosophical perspectives on education.
Category:
Academic Historian, Educator, Public Historian