Paul Zanazanian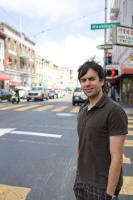 Academic Historian, Educator, Public Historian
Position
Professor, Other
History
Member for:
7 years 3 weeks
Personal Information
Institution/Organization:
McGill University
Department:
Department of Integrated Studies in Education
Interests:
Historical consciousness. The dynamics of inter-group relations. Identity and agency in terms of ethnicity and nationalism, as well as of teacher/educationalist professionalism. History teaching. History of education. Philosophical perspectives on education.
Category:
Academic Historian, Educator, Public Historian