Teaching Historical Thinking Concepts to B.Ed. students Part III
Posted by
David Bussell
12 February 2015 - 4:03pm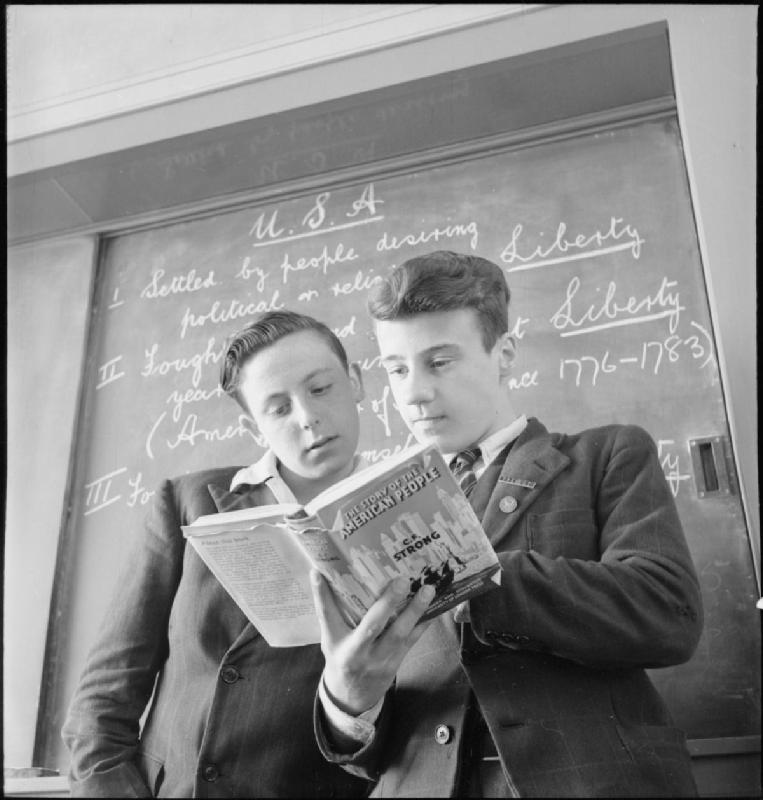 As an instructor of history methods in a B.Ed. program in Ontario, my current students and I have discussed a series of topics and issues regarding the ongoing learning and understanding of teaching using Historical Thinking Concepts (HTCs). This blog covers three such issues: 1) technology; 2) teaching thematically vs. chronologically; and 3) exploring non-dominant narratives.
With increasing access to classroom technology in Ontario high schools, specifically more schools having wifi and school boards implementing Bring Your Own Device (BYOD) programs, there is more opportunity for history teachers to use technology to assist in the teaching of HTCs. Concept- or mind-mapping sites allow for students to make collaborative contributions during lessons. These programs are effective when covering HTCs such as Cause and Consequence or Historical Perspectives, and help with engaging students in the 21st century classroom. For example, students are now able to make interactive concept maps as an entire class using Cause and Consequence on a selected historical event, which can be saved as an image and posted to a class site such as blackboard or even printed out and posted on the classroom wall for student reference.
Also, the concept Primary Source Evidence comes alive through the ability to find primary sources such as photos, documents, letters, and videos on the Internet, and then use them to explore other HTCs. Many B.Ed. students and current history teachers have had difficulty finding primary sources to use in their classrooms. Websites such as thenhier.ca, tc2.ca, historicalthinking.ca, activehistory.ca and canadianmysteries.ca give teachers a wide variety of articles, lesson plans, and relevant primary sources to use with students in order to "do history." The Internet has been an obvious "game changer" for 21st century learning, and also helped teachers to incorporate HTCs as part of their every day teaching.
We have also debated the strengths and limitations of teaching history thematically, versus a strict chronological approach. This has implications for how to make history more engaging and relevant for secondary students. One idea is to shift teaching history from a strictly chronological approach, to one that uses themes to better explain historical events and people. Some students suggested that a course taught completely using themes might confuse students. However, an approach that blended themes and chronology might make history more interesting and engaging for students. Many students seemed receptive to the potential for engagement and understanding that teaching by themes can create in a history classroom. These discussions have also focused on the use of critical questions to help shape historical debates. This helps make history more challenging to students, verses the memorization of historical events and people form one particular narrative or point of view.
The last important topic that we have been discussing over the past five weeks is the importance of exploring non-dominant narratives in the history classroom, and how HTCs can help facilitate such historical investigations and explorations with students. Teachers can support students to remain open to narratives that they may not have heard of, especially local history that is often overlooked in many classrooms. This connection to non-dominant narratives through a local lens is simply one way to try and engage students in the new Ontario history curriculum. The ideas and activities in The Big Six and Teaching About Historical Thinking have been invaluable, as have the online lessons and resources on the virtualhistorian.ca and ohassta.ca.
These are but a few of the important discussions that are taking place in a B.Ed classroom surrounding the ongoing challenges of teaching with HTCs, and making history teaching a more engaging and meaningful practice for current and future history students.
What other classroom technology or teaching approaches and strategies have helped make history more relevant and engaging to your students?
References:
Denos, Mike and Roland Case. Teaching about Historical Thinking. Vancouver: Critical Thinking Consortium, 2006. http://tc2.ca/shop/index.php?main_page=product_info&cPath=1_114&products_id=3
Sexias, Peter and Tom Morton. The Big Six Historical Thinking Concepts. Toronto: Nelson, 2012. http://www.nelson.com/thebigsix/about.html
Photo credit: Wikimedia commons. Young Britons Study American History, 1943.