Social Justice in Museums?
Posted by
Caitlin Tracey-...
21 May 2013 - 10:49am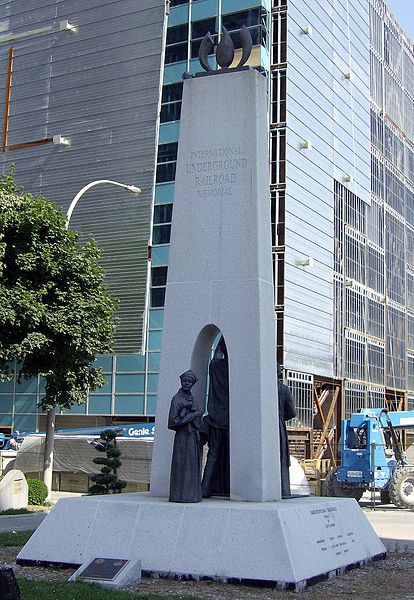 History is often riddled with conflict, disagreement, and injustice. Many museums work hard to present difficult histories in ways that encourage empathy and remembrance, while providing visitors with a link to current struggles. Visitors may experience difficult histories through objects, photographs, text, audio-guides, tours, living history experiences, programming and more. Some museums ask visitors to imagine what an individual's life might have been like, or compare narratives from exhibits with their own experiences. Some use new technologies and interactives, while others are more subdued, focusing on pictures, quotes, or statistics.
Museums such as the National Underground Railroad Freedom Center in Cincinnati, deals with the history of slavery in the United States. Exhibits highlight nineteenth century abolitionists, underground railroad conductors, and orators. There are also exhibits on human rights abuses today, including human trafficking and unpaid or underpaid labor. The result is a powerful museum experience that encourages visitors to go out into the world and work for change. For educators who are looking for more online resources about the African-Canadian experience, the Ontario Heritage Trust website is a good place to start.
In my experience, exhibits with a social justice focus are more common in large institutions. Are these kind of exhibits also possible in small local history museums? What are the best ways to convey multiple perspectives in a small space? Is it possible to tackle painful questions in a museum where the families of those discussed are part of the community? How can educators handle political or historical disagreement? Are there effective ways to encourage empathy without the resources of a large museum?
I think that small museums should be a safe place to discuss the struggles as well as the successes of a community. However, social justice-oriented historical exhibits need to be done in a way that respects all parties involved and acknowledges that there is never one way to see the past. I think it could be accomplished by focusing on individual stories rather than broad generalizations, and by encouraging visitors to share their own experiences.
What sorts of issues do you face working with social justice-oriented histories in museums?
Photo: International Underground Railroad Memorial, Windsor ON. Public domain.