The Power of Real-Time Art to Transform the History Curriculum
Posted by
Stephanie Ander...
30 November 2014 - 6:53pm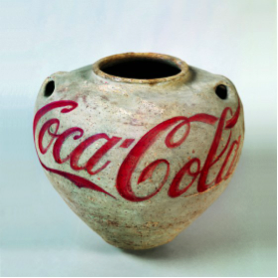 What do you think the intended message of this artwork is? Who might the intended audience be? What contextual factors might help us interpret this work and how? What is the significance of the materials the artist has used? Could this work be interpreted as controversial? If yes, how so?
I've been anxiously waiting to post this piece, but its contents have been veiled in secrecy for months. I am now at liberty to reveal that very soon, Vancouver Biennale will unveil the worldwide debut of Ai Weiwei's installation F-Grass.
The excitement surrounding this installation, by a famed artist and political activist is unprecedented, largely due to his position as a Chinese dissident. Ai Weiwei has not been allowed to obtain a passport, travel abroad, install his work or attend his own openings.
In 2000, before his rights were restricted, Weiwei curated an exhibition in Shanghai as part of the city's third biennale. Its two-word title, F-Off, became the catchphrase for his entire practice. However, in China the "F" word is highly censored, therefore on Chinese Twitter, Google, and Instagram, the word cao, has come to replace it. While cao is generally interpreted as "grass", its pronunciation can also mean "F". By naming his Vancouver installation F-Grass, Weiwei is not only making a clever linguistic dig at China, he is using his own government's censorship laws as a platform for more "art." The irony here is so satisfying: the power of art is not squashed so easily.
Weiwei is just one of the internationally celebrated artists featured in Vancouver Biennale's 2014-2016 exhibition Open Borders/Crossroads. This summer, rock stars of the street-art world, Brazilian twins Os Gemeos, transformed Granville Island with Giants, now rumoured to be the city's most Instagrammed landmark. Meanwhile, Squamish First Nation welcomed a collaborative and consultative installation of the large scale mosaic of a wolf by Brazilian artist Vik Muniz of celebrated documentary Wasteland fame. At the same time, the works of the world-renowned Jonathan Borofsky and Hugo França were unveiled along the city's beaches and waterfront.
Past exhibitions include the iconic A-maze-ing Laughter (the only public art installation in the country to be nominated as one of the Great Places in Canada). This piece, loved by Vancouverites, became a permanent installation after a citizen-led petition resulted in its purchase by a local businessman, and Lululemon founder, Chip Wilson. The way in which Vancouverites galvanized support to keep this installation sums up the power of art to incite action and open minds.
However, Vancouver Biennale is about much more than simply adorning the landscape.
It is part of a movement aimed at democratizing the art world by taking exhibitions outside the four walls of traditional institutions, like museums and art galleries, and transforming cities into open-air museums. It aims to create globally inspired, cultural experiences where people work, play, school, and transit. In many ways, Biennale recalls James Clifford's (1997, 1999) application of Mary Louise Pratt's (1991) concept of "contact zones" – an idea that argues for museums as places of where people who might otherwise be separated by conditions of conflict, or unbalanced power relationships, might collaborate and interact.
What may not be initially apparent is the power that these types of large-scale installations have when connected to schools, education and history.
Through its educational arm, BIG IDEAS, Biennale aims to extend this democratization by linking global dialogues and themes associated with its current and legacy exhibitions to the K-12 curriculum.[1] These themes encompass human rights, global politics and Indigenous and environmental issues: topics that often form the backbone of a socials studies program. What's more, the curriculum created and available for teachers on the web for Open Borders / Crossroads exhibition offers multiple opportunities for both historical and geographic thinking.
I have over 15 years experience teaching social studies both at the secondary and teacher-education levels, and my work developing curriculum for Biennale has reconnected me to the initial excitement and drive that I felt when I first began to work as a teacher. Using current topical artwork that incites powerful global dialogues in the classroom has the power to breathe fresh life into the history curriculum. It gives teachers and students current, exciting and relevant entry points into the themes that permeate history. At the core, the themes remain the same, but how we connect with them need not be static.
For example, the curriculum associated with Ai Weiwei's installation allows students to examine his body of work and status as a Chinese dissident within the larger context of the historical and political climate in China.
All of the artists in Open Borders / Crossroads offer similarly provocative entry points into the social studies curriculum and targeted opportunities for historical and geographic thinking.
The unit plan associated with Os Geomeos' installation, offers students a chance to explore the power of street-art to incite dialogue, provoke controversy and transform the landscape. Drawing inspiration from Bansky's prank at four New York Art Institutions, students are asked to use historical evidence and take historical perspective to meaningfully graffiti an historically significant painting covered by the concepts and content of Social Studies 7 curriculum (World History & Geography 7th to 15th Century, in British Columbia).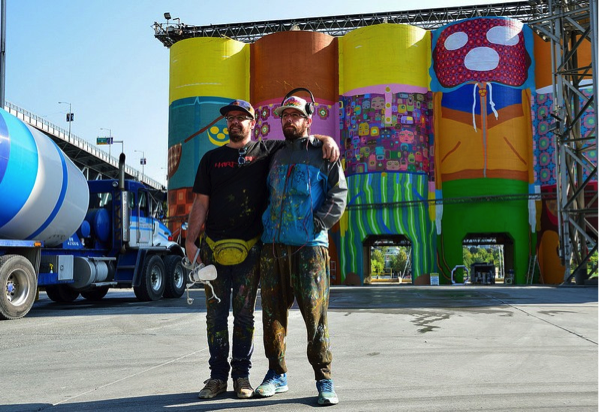 In another inquiry challenge, students use the artists', Giants, as a launch pad to investigate the transformation of Granville Island over time. Here, students are tasked with documenting continuities and changes on the Island on an historical timeline. Later, they are asked to treat street-art as historical evidence. They investigate how this art often makes a political statement, through an examination the work Os Geomeos and their contemporaries as evidence of the fight against political corruption in Brazil.
In some cases, before writing this curriculum I had the opportunity speak to the artists about the themes in their work. Most memorable, was my conversation with young artist Shwetta Bhattad. As we Skyped, from her small village in India, she humbly described how her "I Have a Dream" community project was motivated by the plight of farmer suicide in India, and her personal connection to it as the daughter of a farmer. The curriculum around Bhattad's global project gets students to think critically about food production and distribution at the local, national and international levels. Moreover, her project's title, "I Have a Dream" provides an entry for students to delve into the lasting power and historical significance of Martin Luther King Jr.'s speech.
Vancouver Biennale also encourages teachers to take the curriculum beyond the four walls of the classroom with student action projects and community collaborations. In 2012, there was an unprecedented lineup of 28 BIG IDEAS performances over eight consecutive days at different installation locations around Vancouver.
So, the next time you find yourself strolling your own urban jungle and stumble across a great piece of public art, take in the view but also consider how that the themes of the artists' work might reflect a deeper dialogue that you can use as an entry point into the history curriculum.
How do you incorporate current art, architecture and design into the larger themes of the social studies curriculum?
How can museums and art galleries further democratize their collections so that they are more accessible to schools?
In December, as Weiwei's work is being installed in Coal Harbour: join the twitter panel. Soon after, the curriculum surrounding his installation will be available online, so stay tuned! If the networks align, we just may hear from the Weiwei himself. In the words of a remarkable and brave artist: "Never retreat, retweet!" @aiww
Stephanie Anderson Redmond is a Ph.D. student and instructor in the Department of Curriculum and Pedagogy, at UBC. She holds a keen interest in history education and its function in museums and other sites of public pedagogy. Her research looks at the communication of Canadian national and counter national narratives in museums.
[Note 1]
If you'd like to engage in the installations in Vancouver but don't live in the Lower Mainland BIG IDEAS Anywhere has docent-led videos that enable educators and learners from anywhere in the world to engage in Biennale's current and legacy exhibitions.
Works cited:
Clifford, J. (1997). Routes: Travel and translation in the late twentieth century. Cambridge: Harvard University Press.
Clifford, J. (1999). Museums as contact zones. In D. Boswell and J. Evans, (Eds.) Representing the nation: A reader. Histories, heritage and museums. (pp.435-457). London, New York: Routledge.
Han Dynasty Urn with Coca-Cola Logo, Ai Weiwei http://situationiststudio.blogspot.ca/2013/02/ai-weiwei-re-purposing-history.html
Os Geomos http://www.vancouverbiennale.com