Diary of an Archivist: Archival Concepts for Teachers Part 2
Posted by
Emily Chicorli
12 December 2014 - 5:22pm
In a previous post on archival concepts, I explained the basics of how records are organized based on provenance and original order, and then arranged to create a fonds. In this post, I will explain how finding aids are used to help researchers (and teachers!) find the sources they are looking for.
Finding aids were, and still are, very important tools for researchers. Unlike a library that contains books that are visible and accessible to individuals, an archive stores their records in temperature-controlled rooms not accessible by visitors. This is to keep the records safe and preserved, since many records are unique and the only surviving copies.
If a researcher or visitor cannot see the records right away, then they need some sort of resource to summarize the different collections or fonds so they can recall the records and then analyze them. This is where finding aids become extremely important. A finding aid is a document that provides information about a specific collection of papers or records. Researchers use finding aids to decide whether or not a collection contains relevant records to his or her research.
Before finding aids and records went online, researchers would have to come into an archive, analyze physical finding aid documents, then speak to archivists to recall certain records so they could look at the actual physical copies. Now, many archives have published their finding aids online, so researchers can look through the finding aids prior to visiting an archive.
The University of British Columbia's Rare Books and Special Collections/Archives has an online database composed of records posted online (i.e. you can view photographs or documents through the database) and published finding aids (i.e. the individual records are not available online yet but you can view information about the records). Let's take a look at one of UBC's finding aids, The Harry Bullock-Wesbster fonds, and discuss the most common sections you will find in a finding aid.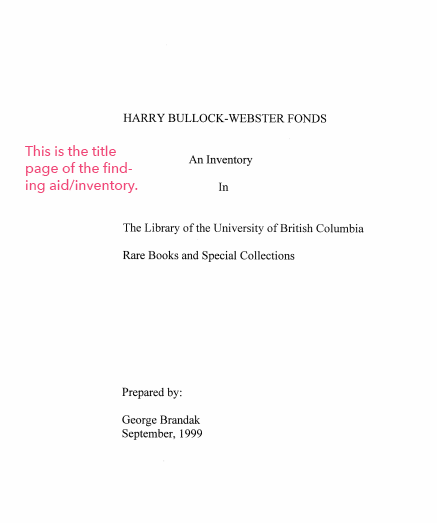 Finding aids begin with a title page that includes the name of the fonds or collections, in this case Harry Bullock-Webster fonds, the date it was created, and who created the finding aid (this is not always necessary).
Sometimes a finding aid will have a table of contents outlining the different sections of the document.
Then, a finding aid will include a biographical sketch of the creator of the fonds/collections. Some biographical sketches can be quite extensive, which can provide useful information about a person or organization. Some biographical sketches are quite short. It depends on who created the finding aid and how much information about the creator is available.
After the biographical sketch will be a section on the scope and contents of the fonds/collection. This section briefly outlines the types of materials and records you can find in the fonds/collection. For example, in this Harry-Bullock Webster fonds, you will find 92 original sketches of early life in BC with topics such as social life, customs, and Hudson Bay Company posts.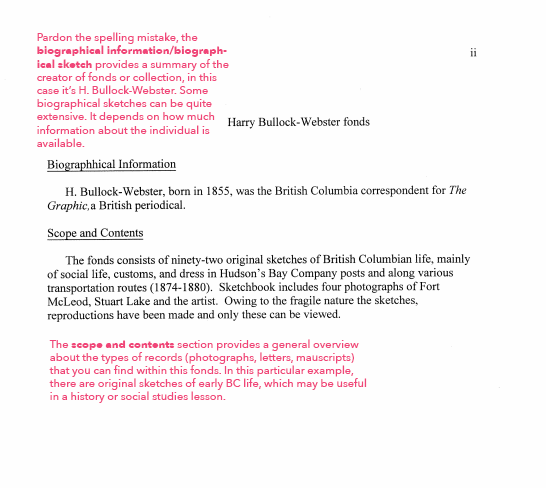 In some finding aids, you will also be given the extent of the fonds. The extent can range from a measurement of centimetres all the way up to metres. This can inform researchers about the physical extent of records. Meaning, if I was researching a specific topic, and a finding aid told me there were 16 metres of records, I might not choose to look through that fonds because it would take too much time. Or, knowing that the fonds consists of 16 metres of records, I would know to diligently look through a finding aid to make sure I know which groups of records I want to see to make the most out of my time at the archive.
Some finding aids will give series descriptions, which are more summaries on what to expect from a group of records.
Finally, you will get to the file level inventory that will give you the name of the file or item and the reference code. If we were looking for particular sketches from the Hudson's Bay Company, we might look for item BC 1833/4 "A Hudson Bay Ball".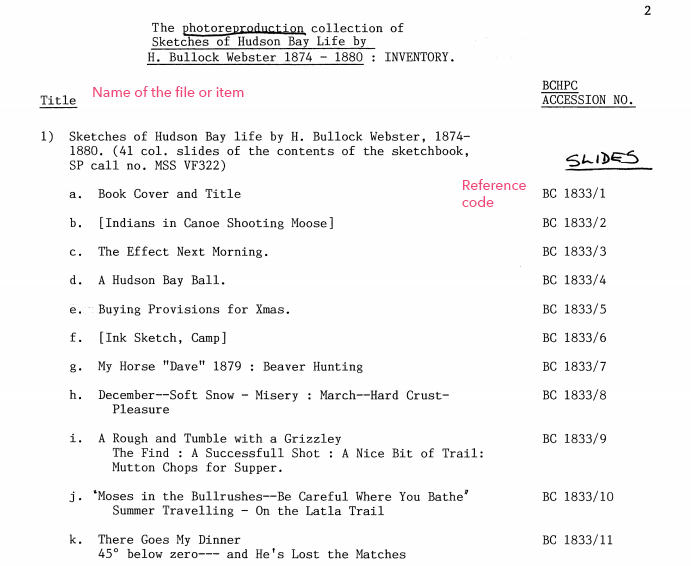 Some databases also have a front page to each fonds or collection that provides the same information you would see in a finding aid. The only difference is that traditional finding aids were Word documents or PDFs, these examples below are created through a database and posted online: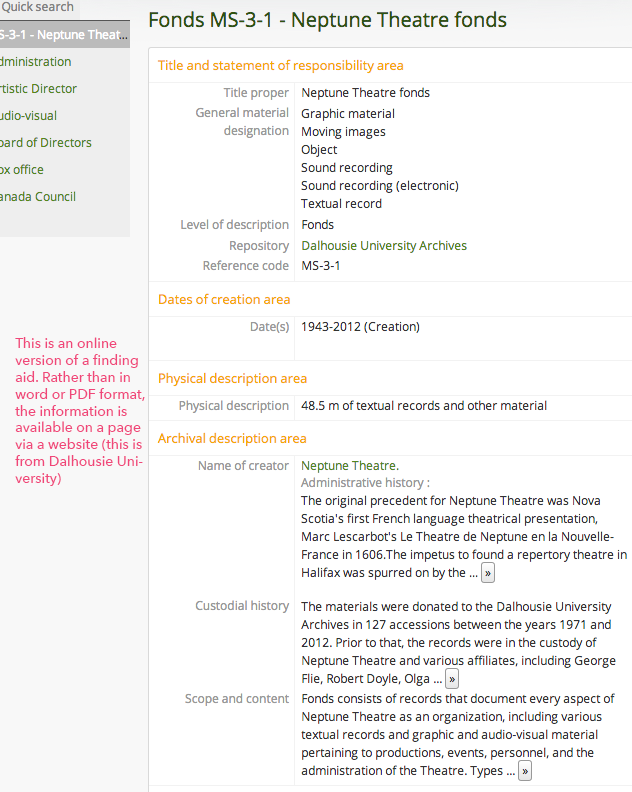 Nepture Theatre fonds from Dalhousie University
Adrien Morice fonds from UBC
So, those are the most common aspects of a finding aid and how to interpret them. You can view the H. Bullock-Webster fonds finding aid via the UBC database by clicking here, and you can view the sketches via UBC's Digital Collections website here.
For more examples of finding aids, see the links below.
Margaret Laurence fonds inventory/finding aid from York University
British Columbia women's history audio collection from Simon Fraser University
John Campbell Family fonds from Western University