Contest: Win a One-Year Subscription to TC2 "Source Docs"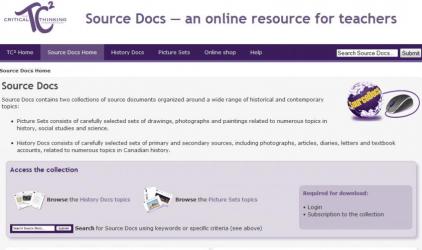 THEN/HiER offered 25 free one-year subscriptions to The Critical Thinking Consortium (TC2) Source Docs, an online resource that contains two collections of source documents organized around a wide range of historical and contemporary topics:
Picture Sets - sets of drawings, photographs and paintings related to numerous topics in history, social studies and science.


History Docs - sets of primary and secondary sources, including photographs, articles, diaries, letters and textbook accounts, related to numerous topics in Canadian history.
Entrants had to describe IN 10 WORDS OR LESS why they thought they deserved to win a subscription (value $30).
The deadline was January 31, 2013.
The winning entries were (in no particular order):
Primary sources bring history to life and engage student interest!
I live eat breathe S.S. so my diet needs TC2.
Broke new teacher,
Believes TC2 can make world less bleaker!
Passionate newbie socials teacher striving to engage students with history.
I reach a huge audience of future social studies teachers.
Student in love with teaching historical thinking & social studies! :D
Because critical thinking is wonderful, but not easy for me!
Because I love using historical thinking in my classes!
I am a new socials teacher with limited resources.
Critically engaged students discover meaning and purpose in their worlds.
Primary sources are more engaging than the textbook!
Because documentary filmmakers need to know!
I teach future teachers to teach the past.
Because your source documents may disprove my thesis ... or not.
A membership will provide me with a powerful networking tool.
Conscientious pedagogue seeks juicy resources to feed voracious learning compulsions.
Ça me préoccupe d'enseigner les Sciences Humaines en sources primaires.
Translation: I am preoccupied teaching Social Studies through primary source documents.
Then in Canada
So near us in the US
I would spread the word to BC Heritage Fairs network.
Innovative interviews
Thinking through documents
Rapport editor
Catalyst teacher/learner
New resources + critical thinking = engaged students.
My students want history to talk to them without "middlemen".
First year socials teacher seeking resources to bring history alive!
Documents help know history; no documents, no history.
(Stalin inspired)
Fly-in school, 60 aboriginal students, no library, limited resources.