Cabinets of Curiosities: Teaching History Using Imagination
Posted by
Caitlin Tracey-...
30 October 2013 - 10:00am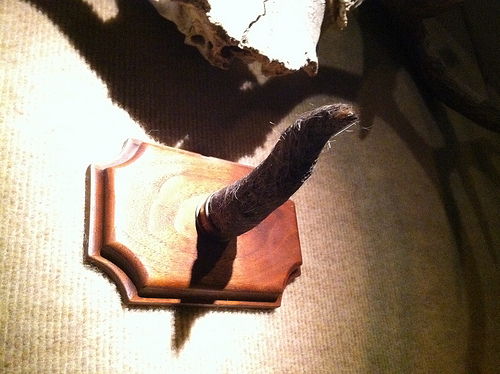 A class of elementary school students gather around a recreated log cabin in a county history museum. A volunteer, dressed in a long calico dress and white apron reminiscent of nineteenth century homesteaders, holds up artifacts and asks the students to guess how the objects might have been used. They don't look at all familiar and some scaffolded questions about object use and material are in order. Some of the students seem impressed by the flat iron, foot warmer, or candle moulds. They begin to talk about how different their lives would be if they had to churn their own butter, wake up in time to prepare a horse carriage, or live without a refrigerator. These kind of conversations have the potential to bring history closer to students' everyday lives. Students can think about how the daily routines of their own lives might have been different in another time, even in the same country they now call home.
There is also a sense of strangeness that is imbued in these objects. Students grapple with trying to figure out what the long metal tubes of the candle moulds were for, and how time consuming something as essential and casually used as a light source, could be to make. What would it be like to walk into a kitchen and not know how to use any of the tools? Would you think differently than a child in this time period? What would you talk about with your friends? What would you worry about? What would you look forward to? Do you have anything in common with the figures in the faded black and white photographs preserved in frames throughout the museum?
Teaching history, and learning about history, requires us to imagine. Some museums, such as the Museum of Jurassic Technology in Los Angeles, challenges visitors to think about museums, and their potential as places of wonder and imagination, in a new way. The museum is essentially a critique of museums themselves, and uses museological display paradigms, such as the Renaissance cabinet of curiosities, to create histories from objects and specimens that may or may not be what the didactic panelling claims they are. For students of history, this sense of wonder and strangeness can be an important part of the learning process.
How do you deal with issues of historical accuracy when you develop activities that ask students to use their imaginations?
Photo: A horn that allegedly sprouted from the forehead of a young woman, Museum of Jurassic Technology. From Andrea Leia's Flickrstream.