History teachers considered less trustworthy than family stories: study
February 13, 2009. Copyright (c) Canwest News Service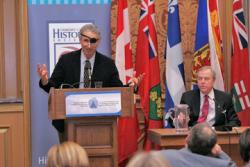 Teachers are deemed 'somewhat trustworthy' by 55 per cent of Canadians, a recent survey has revealed, putting them behind books, relatives and museums.
A University of British Columbia expert on Canadian history is bringing a sobering message to teachers of the subject at a national conference on Friday: their profession is considered less trustworthy than museums, historical sites, books and even family stories as a reliable source of historical knowledge.
"Teachers only do better than websites, apparently," says Peter Seixas, a director of UBC's Centre for the Study of Historical Consciousness, referring to the centre's recent survey of 3,000 Canadians to be released in Ottawa at the National Forum on Canadian History.
But Seixas says his message is not just "doom and gloom," pointing out that while only 29 per cent of respondents considered teachers "very trustworthy" — less than half of the 64 per cent recorded for museums but far more than the seven per cent garnered by websites — teachers are deemed "somewhat trustworthy" by another 55 per cent of Canadians.
Family stories were rated "very trustworthy" by 33 per cent of those surveyed, higher than the ranking for teachers but lower than that for historical books (39 per cent) and historical sites (54 per cent).
Seixas says the seemingly low results for teachers can be interpreted as reflecting "a more sophisticated stance" among Canadians toward the transmission of stories and issues from the past — an attitude of "No, I don't automatically believe everything my teacher tells me."
Notably, he says, museums and historical sites registered a high degree of trustworthiness because they offer artifacts and other tangible remains that allow visitors to "do your own analysis and reach your own conclusions" about historical events and eras.
"You have the stuff right there — there's no intermediary," he says, while adding that these seemingly direct links to the past are still constructed when "curators select objects" for display and craft narrative panels.
Seixas says history teachers and their textbooks should be oriented more toward developing skills of "historical thinking" — critical analysis that permits students to "do more than know one story" about particular events and issues from the country's past.
He applauds annual surveys that highlight Canadians' lack of knowledge about certain key historical facts as promoting the cause of historical education. But he says those kinds of tests also constitute a "gross over-simplification" of history and can foster "a misconception about what's important in teaching history."
A Canadian taught to think about history interpretively, he says, would be able to observe the current uproar in Quebec over a planned 250th anniversary re-enactment of the Battle of the Plains of Abraham and understand why there are sharp divisions of opinion about whether the event should go ahead.
"Textbooks traditionally don't give two stories of Canadian history," says Seixas, but students can emerge from high school suddenly to be "bombarded with conflicting stories" about major themes from the national narrative, including French-English relations and conflicts with aboriginal Canadians.
Seixas and author John Ralston Saul are the keynote speakers at Friday's conference, which is sponsored by Canada's National History Society — publisher of The Beaver history magazine — and the Library of Parliament.
"Given recent public debates over interpretations of history, we see a growing public interest in understanding how Canada's history is remembered, and why in other cases it is forgotten," says history society president Deborah Morrison. "Teachers really are on the front line in preparing our youngest citizens to think critically about interpretations of the past."