Sam Steele: The Journey of a Canadian Hero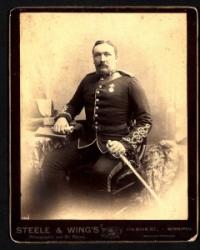 NOW AVAILABLE: Teacher and Student Resources about Samuel Steele, Superintendent of the Northwest Mounted Police
From June 1 - September 30, 2012, the University of Alberta Libraries will present the inaugural exhibition of the Sir Samuel Steele Collection at the Enterprise Square Gallery in downtown Edmonton. The Sir Samuel Steele Collection is composed of the papers of Sam Steele, his wife, Marie, their children Gertrude, Flora, and Harwood, and of fellow Mountie and founder of the Legion of Frontiersman, Roger Pocock.
The collection provides an amazing educational opportunity for students to visit an historical exhibition in person or online. The website includes excellent pictures of artifacts and digital copies of documents that can be read online by students. Students can test their detective skills at reading 19th-century handwriting against transcribed copies of many of the documents.
Curriculum resources based on the Steele archives were developed by Allan Hux (Historical Thinking Project Advisory Board Member) and reviewed by Carla Peck (University of Alberta faculty member and Historical Thinking Project Advisory Board Member), in cooperation with the University of Alberta Libraries, which acquired the Steele fonds in June 2008. All lesson materials have been developed using the historical thinking concepts from the Historical Thinking Project, and all lessons include archival documents (Primary Sources), which have been transcribed so that they are very easy for teachers and students to use (they are in .RTF so teachers can easily cut and/or paste all or some of the primary source material, depending on their students' abilities). The primary sources are embedded in the lesson plans and the originals are on the Steele website, which means that teachers have text they can easily work with, and students can also see the original documents, including handwritten letters between Steele and his children, for example. There is also a document for teachers showing possible social studies curriculum connections from grades 4 - 7 in Alberta. Connections across other grades in other provinces are also possible.
Teachers are invited to book visits to the Sir Sam Steele Collection for their grade 4, 5, 6 and 7 classes in June or September 2012. Students who attend the exhibition in June will have an opportunity to apply their classroom learning to a real historical exhibition with many unique artifacts and documents. Teachers are invited to use the pre-, during and post- visit curriculum resources to design a rich year-end experience for their students. Teachers who are planning to bring their new classes in September at the beginning of the 2012-2013 school year will have an opportunity to spark their students' interests in the history of Alberta, the prairies, the northwest and Canada. They will also have a chance to introduce students to historical thinking and the methods of historians when they view original artifacts and read documents that they can build on for the rest of the year.
Many teachers may not be able to arrange class trips to see the Sir Sam Steele Collection in person and we encourage you to take advantage of the excellent website. The pre-, during and post- visit curriculum resources will work very well for a digital tour of the exhibit from any classroom in Alberta and the rest of Canada. In addition to the exhibit artifacts and documents, the archivists have pulled additional sources from the Sir Sam Steele Collection for student investigation. These resources will assist teachers and students in their study of the learning outcomes in the Alberta Social Studies curriculum. They will give students a deeper sense of the historical context and family life in the late 19th and early 20th centuries. The Steele family controversy over their 17 year old son Harwood's wish to enlist in the Canadian Army in 1914 is just one example.
Image: Portrait, Samuel Benfield Steele, 1891. Bruce Peel Special Collections Library, University of Alberta (2008.1.2.1.6.1.8).