Lost and Found
Posted by
Mary Chaktsiris
5 November 2012 - 4:33pm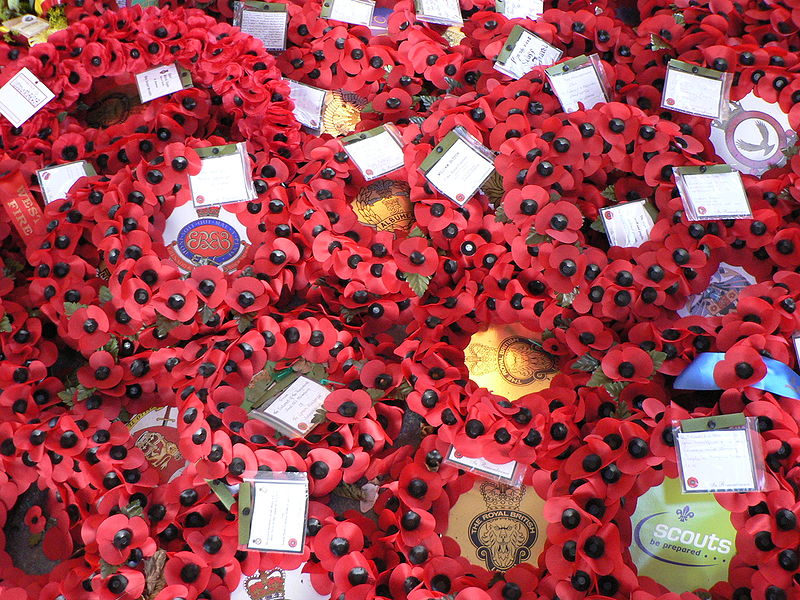 Every year around Remembrance Day I buy poppies and I lose poppies.
Immortalized in a variety of ways, including that infamous poem In Flanders Fields jotted down by Dr. John McCrae amidst the mud and mire of the Western Front, poppies are still pinned to lapels, assembled by schoolchildren, and laid in wreaths on Remembrance Day. Poppies are a tangible symbol of memory, a process that is often quite abstract. And Remembrance Day, which commemorates the armistice which ended the Great War on the eleventh hour, of the eleventh day, of the eleventh month in the year 1918, is a touch point for Canadians to recognize the sacrifice and service of those in the armed forces both in the past and in the present.
But what does it mean to lose a poppy (or two)?
The poppy that falls off a jacket, is pushed off by a seatbelt, or that mysteriously gets swallowed up by taking on and taking off a scarf reminds me of the passing and often transient nature of memory.
While Remembrance Day has always commemorated the armistice, this commemoration has been added to over time. The Second World War, Korea, Canada's various peacekeeping missions, and the war in Afghanistan have each in their own ways added to and altered Canadian perceptions of and experiences with war. Wearing a poppy recognizes and honours the sacrifices of Canadians in war across the twentieth century and into the twenty-first. Yet this remembrance is, quite literally, pinned on and off each year.
Although the poppy is becoming increasingly present as a symbol of remembrance, with a prime example being Ontario's "Highway of Heroes" signage across the 401 featuring the poppy, losing poppies reminds us of the ways memory can be brought up or discarded at particular moments for particular reasons. Maybe losing poppies is part of memory as an active process of reshaping, refining, and remembering the past. Memory does more than connect past and present; it connects us to certain points and versions of the past that often change over time. Poppies, their wear and their loss, illustrate that memory is an active process that invites people to take on, or take off, messages and lessons from the past as they see fit, and as makes sense to them in their present circumstances.
The person sitting across from me just refastened a poppy to his jacket to ensure, I assume, he does not lose it like so many before him. Maybe he's already lost one, and this isn't the first poppy he's purchased this year. Earlier today I saw a lost poppy caught in the turnstiles of a busy revolving door after it quietly slipped of its owner's lapel. I wonder how long it took for that person to realize the poppy was gone?
So this year, whether you are planning on buying a poppy, rebuying a poppy, or going poppyless, keep and eye out for those lost poppies. They can be found in the most unexpected of places, kind of like memory itself.
Photo: Poppies in Belgium, Public Domain