Teaching the Past Blog Contest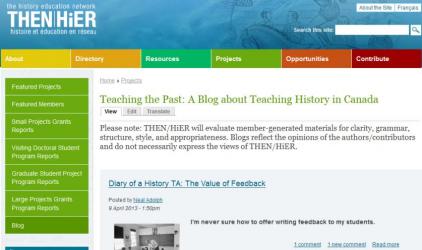 THEN-HiER's national Teaching the Past blog contest invited participants to engage with a major issue in history education by commenting on blogs: the bloggers that inspired the most comments won prizes.
The winning blog posts were:
Comment protéger l'histoire du politique? (Frédéric Yelle, 1st prize, The Big Six: Historical Thinking Concepts, French version)
What's the Role of Presentism in History Education? (Neal Adolph, 2nd prize, year-long individual membership to the Canadian Museums Association)
How Will Current Debates Over the Politicization of History Affect What Takes Place in History Classrooms? (Rose Fine-Meyer, 3rd prize, subscription to Canada's History)
Congratulations to our winners!