Tl'o Tem Wiyothtset – It's Always Our Time
Posted by
Madeline Knicke...
5 Mars 2013 - 12:18pm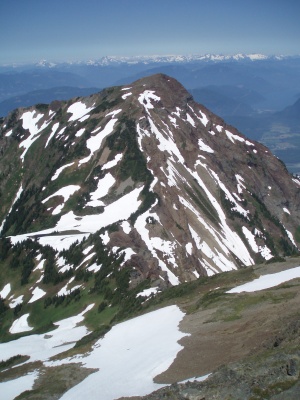 Driving along Highway 1 from Vancouver towards Chilliwack, BC, can be beautiful on a clear day; the route leads you away from the coast, takes you over the Fraser River, and eventually, deposits you in the middle of the Fraser Valley, on flat plains ringed by mountains. Though the drive affords some stunning views of the landscape, the predominant sight you glimpse as your car hurtles along the concrete corridor that unites Canada from sea to sea is a serial procession of tacky advertisements emblazoned on large billboards, looming over the speeding vehicles. Over the past few years, however, new billboards have been cropping up around Chilliwack, and these ones are…different.
In 2008, when Laura Wee Lay Laq heard about the provincial government's BC150 project, aimed at commemorating the history of the province, she was concerned not enough would be done to incorporate histories of the Indigenous people who live in what is now known as BC. Additionally, as a Halq'eméylem language teacher, she was looking for ways to make the language more visible to help ensure its survival. So, Wee Lay Laq proposed a project which would inject new awareness about Stó:lõ history and the Halq'eméylem language into the Chilliwack community. Her bid was successful. Now, five years later, there are six billboards up in different places around the area, showcasing Stó:lõ stories, place names, and landscape information.
The project, which Wee Lay Laq named Tl'o Tem Wiyothtset – It's Always Our Time, is meant to bring awareness to settlers and Stó:lõ alike that, although places they live in and around now bear European names, they have older names and stories which remain significant today. "Explorers knew full well that these places had names," Wee Lay Laq told me, "so why did they rename the river the 'Fraser'? Because they were claiming it. That's the thing about names, you're claiming it and making it your own."
In opposition to these colonial monikers, Wee Lay Laq's billboard project reclaims the land. "Our history is written in the Stó:lõ landscape," Wee Lay Laq said, adding that she thinks people enjoy learning about how to see the landscape around them from a different perspective. "When they understand that Mt. Cheam and Mt. Baker are connected through story, it opens up a door for people to respect where they are." Knowing your history is particularly important in Stó:lõ culture, Wee Lay Laq explained. "People believe that when you know your history, you're wealthy. I wanted to show people how wealthy we are because of the stories we know about our landscape."
For each sign, Wee Lay Laq partners with the local band or other organization and works in collaboration with them to develop the content. During our conversation, she stressed the importance of this relational aspect to the work, saying it was better to "include everyone so you're not working in isolation." She works from anthropological field notes, oral histories, and local family stories. Wee Lay Laq insists on reproducing the language exactly as it was used at the time it was written down, to represent the way the storytellers spoke, and thus "keep the spirit of the ancestors voices in the stories." The billboards also feature Halq'eméylem place names and vocabulary, as well as hand-drawn images and professional photographs.
In addition to the blog she created to feature the billboard images, in the future, Wee Lay Laq also hopes to add audio files of the Halq'eméylem speakers telling the histories of specific sites. She also plans to create a geo-caching adventure for adventurous locals who want to learn even more about the Indigenous history of their region. She looks at it as a lifelong project, and argues that the process of reasserting the Stó:lõ-ness of the Fraser Valley has to be an ongoing thing.
So, while the gigantic advertisements may still outnumber Wee Lay Laq's billboards in the Chilliwack area, the strength and potential of her Tl'o Tem Wiyothtset project is only growing. The appropriation of the billboard form for a distinctly anticapitalist, decolonial message is striking, especially in the context of the recent Idle No More flash mobs, protests, and events in Chilliwack. Indeed, from a certain perspective, "tl'o tem wiyothtset" ("it's always our time") evokes the significance of Idle No More in Stó:lõ territory. As the movement continues, and Wee Lay Laq and other Indigenous individuals increasingly find diverse ways and platforms to share their histories, history educators will be increasingly called upon to make space for these different perspectives on the past. How we respond to this opportunity will reflect the extent to which we truly wish to acknowledge the history of Indigenous-settler relations in Canada, and to work together, actively, towards reconciliation.
How do you use indigenous knowledges and perspectives in your classroom/museum?
Photo: Mount Chiyo:m (Cheam), taken by Tsylos, Wikipedia Commons.