Difficult Histories, Difficult Presents
Posted by
Madeline Knicke...
8 January 2013 - 4:56pm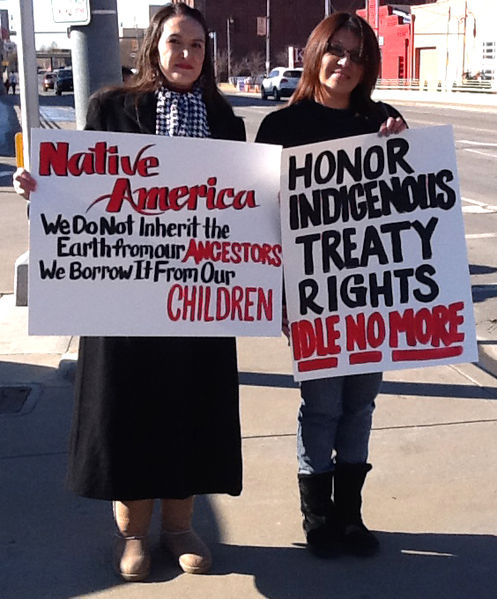 Since the beginning of December 2012, hundreds of thousands of people across North America (Turtle Island) have gathered together to protest ongoing colonial injustice towards Indigenous peoples. Under the leadership of four women (Sylvia McAdam, Jess Gordon, Nina Wilson, and Sheelah Mclean) and inspired by the bravery of Chief Theresa Spence of Attawapiskat, individuals in Canada and the United States are standing together. The similarities between Idle No More and the Occupy movement have already been drawn, and commentators have also begun to refer to this series of protests and flash mobs as the Native Winter, an echo of the Arab Spring movement that rippled across the Middle East earlier this year.
Many aspects of these gatherings have been quite joyful: here in Vancouver, on unceded Coast Salish territories, there have been round dances in the middle of busy downtown intersections, slahal games in shopping malls bustling with holiday consumerism, and jingle dancers and drums on the steps of the art gallery. Alongside these celebrative activities is the strident critique that Idle No More makes: that we, Indigenous and non-Indigenous people living on this continent, must come to grips with our shared history of colonization and settlement, for its legacy has left us with stark inequality.
It is a situation so unjust that the United Nations and Amnesty International recently released a report that says that despite their previous efforts to encourage the government to improve their policies, Indigenous peoples in Canada "continue to face a grave human rights crisis" unlike none other in the country. Think about that for a second. Independent, international organizations have consistently told the Canadian government that their policies towards a minority group are violating human rights – and the government continues to do nothing. In this country, people are dying because of this inaction. And yet the government will not acknowledge that there is something rotten in the state of Native-newcomer relations. The current government has recently rejected the international criticism of Canada's human rights record.
At the root of this rupture between Indigenous calls for action and the immobility of the government is a crucial aspect of North American histories: colonization and settlement. As I discussed in an earlier post, this is a history that is not often part of the curriculum in public schools. This collective avoidance of the issue is not helped by statements like the one that Prime Minister Stephen Harper made at the G20 conference in 2009 that Canada has "no history of colonialism."
How do we move forward from such a place, a figurative space that both discursively and materially denies the claims and rights of Indigenous people (even when these have been recognized by the courts, and even when they have been laid out in treaties)? Education is the first step. If you live in a treatied area, learn your rights and responsibilities under the treaty. Ask yourself whether the treaty agreements in your region are being carried out. Boldly question negative comments made about Idle No More on social media sites (one thing is certain; the protests are bringing racists out into the open in these public, but anonymous forums). Be active in your efforts to learn about the Indigenous and colonial histories of the place where you live. You will probably find much that saddens and much that uplifts you.
Though situated in the present with goals for the future, Idle No More holds a helpful lesson for historians and educators. It reminds us of the importance of acknowledging a difficult aspect of our shared history, and to do what we can to dismantle its legacy.
I have not tried to offer a comprehensive interpretation of Idle No More in this post, both because it's an ongoing, evolving phenomenon, and because so much has already been written on it, from many different perspectives. Rather than feeling satisfied right now, I hope you feel the need to explore the movement further, and I encourage you to educate yourself on the issues motivating the activists. I've compiled a list of resources that may be good places for everyone, but especially non-Indigenous folk, to fill in the gaps in their learning. It's by no means comprehensive; please feel free to add to it in the comments section.

How do you use current day movements like Idle No More in your history education lessons?
Photo: from the December 29th Idle No More Round Dance in Oklahoma City in solidarity with First Nations people in Canada, public domain.