History Matters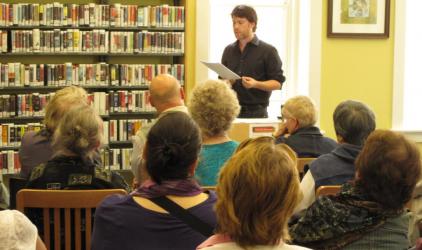 History Matters (2011) is a free public lecture series which aims to develop dialogue and exchange between active Toronto historians and the broader Toronto community through presenting historical subjects in an accessible and engaging manner. The themes for this year's series are Toronto environmental and labour history. It was organized through a partnership between the Toronto Public Library (spearheaded by Senior Services Specialist, Miriam Scribner), Lisa Rumiel (a SSHRC Postdoctoral Fellow and Historian at McMaster University), and Jay Young (a PhD Candidate in the York History Department).
The lectures are made possible by a generous grant from The History Education Network (THEN/HiER).
History Matters Program 2011:
History that makes a difference. Connect with working historians at the History Matters lecture series and discover some of the surprising ways in which the past shapes the present.
Spadina Sweatshops: Jews and Gender in Toronto's Labour Movement, 1900-1939 Ruth Frager (Dept. of History, McMaster) Wed. Sept. 14, 7 pm Lillian H. Smith Branch podcast
Three Mile Island to Bhopal: the Life and Work of Environmental Activist Rosalie Bertell Lisa Rumiel (McMaster University) Thurs. Sept. 29, 7 pm Parkdale Branch podcast
Imagined Futures for the Lower Don: A History of Big Ideas for a Small River Jennifer Bonnell (University of Guelph) Wed. Oct. 12, 7 pm Riverdale Branch
The Making of Dufferin-St. Clair: 1900-1929 Richard Harris (McMaster University) Thurs. Oct. 20, 7 pm Dufferin St. Clair Branch podcast
Labour on the March: 150 Years of Labour Parades in Toronto Craig Heron (York University) Thurs. Oct 27, 7 pm Beeton Auditorium, Toronto Reference Library podcast
Learning About e. coli From Walkerton Joy Parr (University of Western Ontario) Wed. Nov. 2 , 2 pm Northern District Branch
Building Postwar Toronto: What Roles for Experts and Politicians? Stephen Bocking (Trent University) Mon. Nov. 7, 7 pm Annette Branch
Producing History in an Auto Town: Oshawa After World War II Christine McLaughlin (York University) Wed., Nov. 16, 6:30 pm Pape/Danforth Branch podcast