Indigenous Objects and Histories in Museums: THEN/HiER Regional Conference "Objects Matter…"
Posted by
Heather E. McGregor
15 October 2013 - 10:51am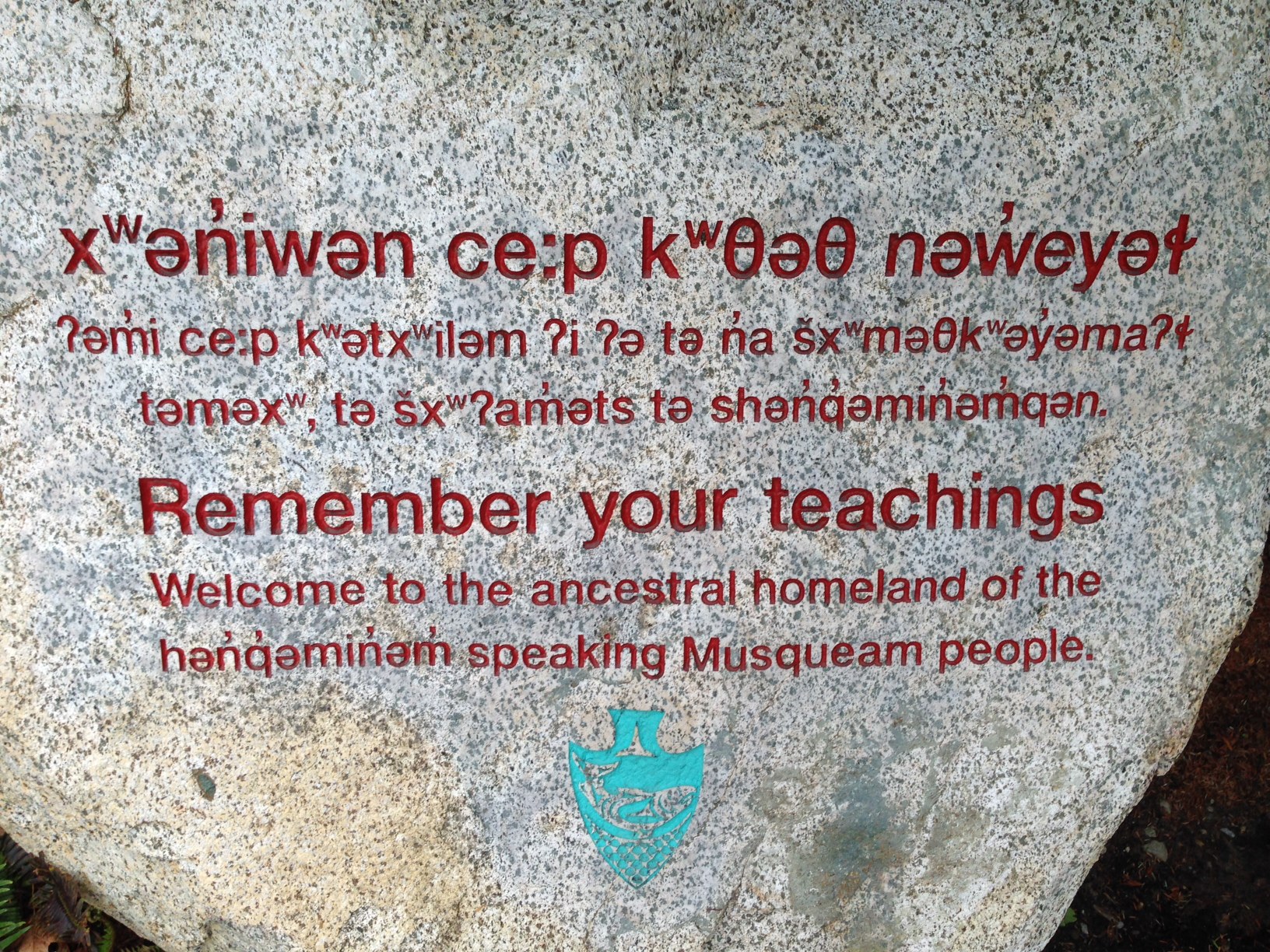 Last week THEN/HiER delivered a fantastic regional conference at the Museum of Anthropology (MOA), University of British Columbia, Vancouver. It focused on how historians, researchers, curators, museum educators, community members, teachers and learners make histories through museums and how we make objects matter. The conference featured substantial contributions from representatives of Indigenous-focused museum projects and reflected Indigenous perspectives on history; these are the aspects of the conference that I will feature through this blog.
The conference attendees were welcomed by Henry Charles of the Musqueam Nation, on whose ancestral lands MOA is located and with which MOA has many reciprocal relations. When I met Henry and we walked through the museum towards the meeting room he pointed out several objects from the Charles family that can be viewed at MOA, so I was lucky enough to begin my day with this teaching!
The first presentation was done by Terry Point of the Musqueam Cultural Centre and his talk was entitled "Museology with an Open Heart and Open Mind". Terry talked about involvement in developing exhibits at MOA that respond to the interests of the Musqueam community. He also gave an overview of the establishment and operations of the new Musqueam Cultural Centre. He began by suggesting that when we encounter or witness new spaces, new histories and new cultures, we should remember our own traditional teachings from our own Elders and reflect on our own identity. This idea is expressed in the welcome rock installed by Musqueam outside MOA and pictured here. Terry posed questions that museums and Indigenous communities face in making curatorial decisions, such as: How do we talk about culturally sacred, private or sensitive material in public spaces like museums? How do we let the public know that Indigenous traditions are still continuing, if some of those traditions are not usually intended for public consumption? He provided the example of putting a mylar sheet in front of images that represent a sacred tradition, to signify that the cultural practices are living, but they are protected.
Jennifer Kramer, curator of the Pacific Northwest collection at MOA then discussed the opportunities and challenges of curating exhibits through collaboration with students, community, and Indigenous stakeholders. She told a story about encountering a First Nations Elder who was reluctant to participate with her in curation because he viewed anthropology as only theoretical. Such legacies of irrelevance and harm must be addressed by historians, researchers and museum staff who wish to work with Indigenous communities. She talked about the importance of allocating sufficient time for curation, building trust and respectful relationships, as well as approaching curation with an emphasis on relationships and activity (rather than just static objects). From Kramer I was reminded that objects and curation can provide focal points for cross-cultural understanding and misunderstanding, and potentially contribute to strengthening social relations from the past into the present and future.
Jill Baird, curator of education and public programs at MOA, presented a new online learning project that is just being launched: Voices of the Canoe. This educational website is intended to illustrate Indigenous ways of knowing from Fiji, Squamish and Haida Nations, using canoe culture as a vehicle. It demonstrates how canoes can be more than material objects but also a way to teach about historical significance and the use of evidence in constructing histories from Indigenous perspectives. Designed for secondary students, the website provides a wealth of primary source material to explore – as well as resources great for teachers!
Continuing with the canoe theme, Maddie Knickerbocker, PhD Candidate at SFU and THEN/HiER affiliated graduate student, presented her ethnohistorical research into the history of the Sepass canoe. Following the history of one object, a canoe that is significant to the Stó:lõ people, Maddie demonstrated how different uses and locations of an object can illustrate its significance to Indigenous-non-Indigenous relations in the past and present. The Sepass canoe has been a necessary tool to feed family, creative outlet, leisure water craft, important pedagogical piece, point of connection between family and neighbours, manifestation of local histories, instigator of memory and affect. Learn more about Maddie's work here!
My day finished with an excellent break-out group discussion. Participants shared questions around the following topic: how can museums and educators work towards placing objects in the cultural and historical context of the Indigenous communities to which they belong?
What are your questions about how museums and educators can better construct histories to reflect Indigenous ways of making meaning from the past?
Hopefully some of the resources here can help you!
Thanks to all those who participated and contributed to making the conference a full and rich experience for those with common interests in museums, histories, and Indigenous interests!
Photo: Author's photo