Approaching the Past: A Walking Tour of Stanley Park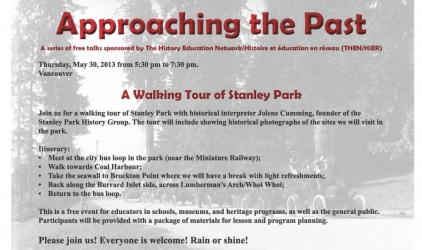 This Approaching the Past Vancouver event took place May 30, 2013 from 5:30 to 7:30 pm. This free public event was a A Walking Tour of Stanley Park with Jolene Cumming of the Stanley Park History Group. .
Participants viewed some historical sites within the park, which at one time was inhabited by First Nations and later by European newcomers. Ms. Cumming showed historical photographs of many of the sites.
See the attached poster for more details.