Free Document-Based iBook Explores Progress and Poverty in the Industrial Era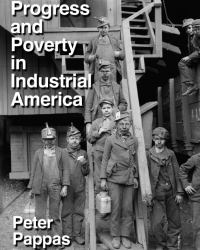 My latest multi-touch iBook, Progress and Poverty in Industrial America, is available for your iPad - free at iTunes. It's a great resource for use in the classroom, and serves as a model for teacher or student curation of historic content into interactive digital DBQ's.
This 18-page document-based question guides students through the historian's process with an investigation of the essential question, "How do we evaluate the social costs ?and benefits of technological innovations?" To make the question relevant to students, it begins with a brief examination of the impact of 21st c technologies / global economy on progress and poverty in contemporary America.
Next the iBook turns to historic content set in late 19th century America. "Stop and think" prompts encourage a deep reading of many notables of the "Gilded Age" - including Russell Conwell, Henry George, Andrew Carnegie and Stephen Crane. Visual source material includes posters, 1908 Sears Catalogue, a gallery of photographs by Lewis Hine and video of one of Edison's early Vitascope films. Guiding questions help students think more deeply about each document:
What does the document tell you about America at the turn of the 20th century?
How do these historic themes of "progress and poverty" relate to issues in America today?
Read more about the iBook at my blog http://bit.ly/XRpTBI
Download a free copy at iTunes http://bit.ly/WI3Dqq