Read/Review/Respond Blog: Third Post
Posted by
Dr. Rose Fine-Meyer
28 February 2013 - 6:05pm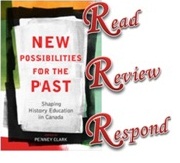 Penney Clark's newly edited collection of essays in New Possibilities for the Past: Shaping History Education in Canada was the first book that was used for the Read/Review/Respond blog. In response to Katherine Ireland's blog post, I would argue that it is difficult to know if new scholarship in the field of history education will be perceived as a "trend" by teachers in the classroom or as a "purposeful evolution" predominantly because of the ongoing gaps that occur between policy and practice. Policies tend to reflect changes in academic scholarship in the field as well as governmental responses to a variety of social, political and economic issues, but that doesn't always reflect what takes place in classrooms. We don't know to what extent teachers fully follow current curriculum philosophies. To use a historical example: while Dewey was a mainstay in normal schools in the early 1900s how many teachers actually implemented Dewey's ideas? And more recently, the efforts throughout the 1980s and 1990s to ensure curriculum presented in classrooms was equitable, was regarded by some teachers in a tokenistic or marginalized way. We have yet to create a history curriculum that ensures equity.
This is due to a variety of reasons but I can quickly think of three. Teachers, many with a wide range of experiences, and working with diverse learners, are often required to find ways to blend former curriculum (old textbooks and resources remain available) with current curriculum policies. This can result in some interesting lesson outcomes, but can also result in curriculum that is a pastiche of the old and the new. It's like taking two regionally different pie recipes and blending them: it could be delicious, but it also might have some very distasteful results. Second, teachers must address the multiple learning needs of their students and that means that they must be constantly shaping and reshaping their pedagogy, sometimes they find what works and stick with it. Finally, in order for new curriculum to be successful, teachers need to feel invested in the material and approaches, enough to make them gravitate towards new ideas. Many teachers were not trained with these new concepts and feel quite overwhelmed. The question for educational reformers is how to facilitate the transition.
New Possibilities for the Past provides excellent chapters on incorporating historical thinking concepts in the classroom and developing historical consciousness in students. A quick view of the chapter titles in Part III provides ample support that this book will address the task of implementing historical thinking in a variety of classroom grades and settings. Amy von Heyking examines historical thinking in elementary schools, Tom Morton in secondary schools, Gerald Friesen in the university. Ruth Sandwell addresses the issue of the great divide between historians and history educators in her chapter "History is a Verb", which argues for effective ways to bring the gaps.
Still, the issue of incorporating historical thinking concepts into the classroom remains a challenge. Convincing teachers to embrace new history pedagogy will mean working within existing systems and understanding that systemic change takes time. "Doing history" in classrooms is not the same was "doing history" as a historian. The classroom is a unique space that requires teachers to do multiple tasks in the delivery of curriculum and many of these tasks have nothing to do with the discipline. In some ways it would be like asking historians to bring 25 history students with them into the archive to share the work they are doing. This, I would suggest, would make the research work more challenging.
My point is that research work in an archive (or other places of research) is different from research that takes place in classrooms. This fact has seldom been remarked upon and is one of the reasons I wrote an interdisciplinary course for schools in Ontario that involves student-led activities like creating and maintaining an archive in schools.
One hope lies in the work of educators such as Peter Seixas and others to develop specific step-by-step materials for teachers. Seixas and Morton's new book, "The Big Six Historical Thinking Concepts" for example, takes these steps and the Historical Thinking Consortium, which holds summer institutes, provide guidelines for implementation.
Historical thinking concepts are becoming more central to history curricula across the country. Time will tell in what ways these new concepts become part of teacher pedagogy. My observations of teacher candidates at their practicum have revealed that a number of teachers are not implementing new scholarship within their classrooms and some are actually openly hostile to change. More inquiry into the reasons for this is clearly needed.
Finally, just like historians, there isn't one way of "doing history" and this can also be said for teaching history-the challenges of implanting the six historical thinking concepts for all teachers and all students assumes a uniformity that doesn't exist. So the complexities of implementation are clearly there.
I will end by stating that New Possibilities for the Past: Shaping History Education in Canada provides us with a unique opportunity to bridge some of these gaps. The book can easily find an important place within a broad range of communities: within graduate student classes, within Faculty of Education teacher candidate courses and within communities of practicing teachers. Teachers have noted that this book provides a wonderful lens into the issues related to history education. One teacher called it "food for discussion around the water cooler" about what's "hot" in history education in Canada, with good case studies that describe implementation. Graduate students have noted the diverse topics within the book that reflects the scholarship of scholars from across the country and opens up discussion and debate. The book also celebrates the work taking place by history educators and reformers within the field of historical consciousness. As many of the scholars in the book are also members of the THEN/HiER board, their chapters reflect a common theme that links to the ways in which historical thinking concepts can advance history pedagogy in schools and museums. This book provides us with much to think about.
Share some ideas about how to implement historical thinking concepts in our Comments section!