The Trials and Triumphs of Writing a History of Museum Education: Adventures in the Archives Continued
Posted by
Kate Zankowicz
8 February 2013 - 3:06pm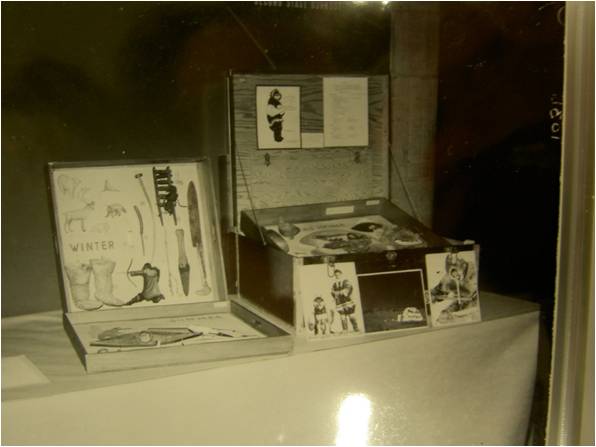 My last blog post discussed the trials and triumphs of trying to write a history of museum education about an institution that has not consciously collected its educational history. Very little evidence exists in the Royal Ontario Museum's archive that illustrates how museum educators used museum collections and exhibits to teach, their pedagogical techniques, what they taught, or what they were like, as educators or as people. This week, however, contained a small but significant victory.
Victory is, of course, often laced with tragedy: I found out that the interviews with ROM staff that contained anecdotal information about Ruth Home and her work as Head of the Division of Instruction, were kept on audio tapes that were nowhere be found. That was 76 boxes later...my utmost thanks to the incredibly patient archival staff who looked in vain. However, in a fortunate turn of events, I also discovered that Home's predecessor, Ella Martin, was also once her assistant and I began examining the two un-catalogued boxes that Martin had left behind. I didn't think I was going to find much about Home and the programming of the 40s and 50s. As it turns out, I was able to uncover about a dozen teacher evaluations of outreach boxes that traveled to towns throughout the province of Ontario in the early 50s. They had been inadvertently saved: Martin used them as scrap paper for her lecture notes. The history of community outreach at the ROM is woefully un-documented: these testimonies of object-based learning offer a window into what the outreach boxes were like, how they were used by teachers, and what students thought of them.
The information I gleaned was pretty diverse: I learned that teachers wanted more teachers' notes, as well as more time with the boxes. I also learned that students in Dobie were reportedly thrilled with the "Rats of Ontario" outreach box, particularly the specimen they could touch.
I also learned that a Special Education teacher from Kirkland Lake commented that the language of the outreach material was too "stilted and difficult for public school" suggesting that ROM educators, who often had their material re-written by curatorial staff, may not have used accessible language. Her comment does offer evidence however that the outreach boxes were clearly being used by differently abled learners.
Original outreach boxes have not been preserved, but the teacher evaluations of these boxes offer important clues about their content and how they were used. Teachers in Kirkland Lake described how students were using the models from "Farming in the Long Ago"to plan a classroom mural on "growing food in Egypt". The box on "Huron Indians," according to a teacher from Algoma, served as a nice introduction to "a lesson on warfare etc.", while other teachers who used that box requested that, because of the popularity of the dolls and the picture of a cradle, "that an Indian cradle be included next time." Another teacher from Algoma circulated the "Huron Indian" case among Grade 1-4 classrooms. She writes:
"having just completed a project on Indians as natives of America, during which we made an Indian village, this exhibit was of great value to fix the contrast in their minds and they found it intensely interesting even to Grade 2.[italics mine]"
These testimonials offer glimpses of how outreach boxes may have been used to uphold dominant discourses of primitivism and anti-modernism that was very much present in social studies curriculum.
While the ROM's Division of Instruction, under Ruth Home and later Ella Martin, was vocal about the use of objects as a means to promote citizenship education and "racial tolerance", as evidenced by articles that they wrote in The School, the testimonials from teachers who used the outreach boxes paints a more complicated picture.
My next blog will focus on another gem I found in Martin's boxes: an analysis of children's thank-you notes. What can they tell us about museum education? Stay tuned!
Have an incredible "I can't believe I found this in the archive!" story? Share it with us in the comments section.
Photo: Object case in 1963. Editor's photo; original photo found in ROM archive