How Does 'Seeing' the Past Intersect with Historical Thinking?: The Use of Art and Photography in the Classroom
Posted by
Heather E. McGregor
24 January 2013 - 11:18am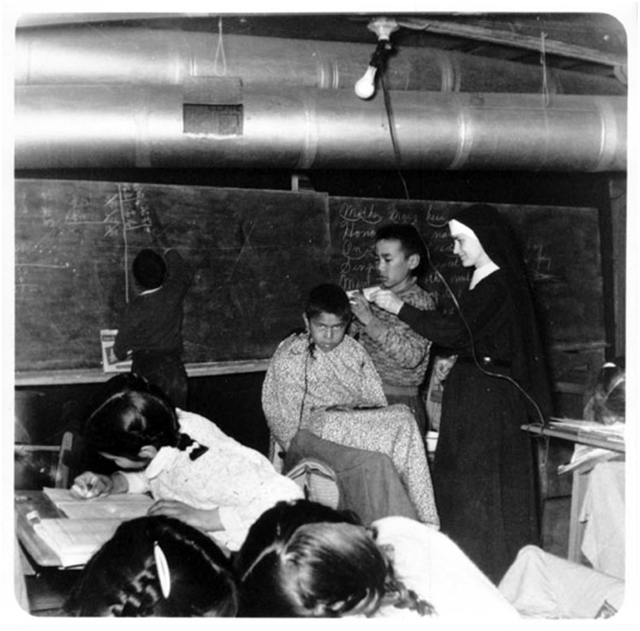 With use of multimedia becoming more common in history classrooms, how can visual artifacts or sources such as photographs and art works be used to support, extend, or even complicate historical thinking? Grasping and keeping students' attention is one thing -- assessing for the way students use these sources in historical analysis is another! This question can be particularly challenging when entering into a space of "difficult history" or historical trauma, such as residential schools history in Canada (see my previous blog). For example, in the Nunavut and NWT residential schools history program, students are asked to analyze a picture of a sculpture by a northern artist, Abraham Anghik Ruben, who is also a residential schools survivor. The sculpture shows a mother embracing two children, an image that takes on new meaning when students are presented with the sculpture's title: "The Last Goodbye".
There can be more student interest in using photos or artistic representations of difficult histories, given the emotional valence, but is that helping students understand the past?
Academic studies have begun to address this question. James Miles successfully defended his MA thesis in December 2012 entitled Seeing Historical Injustice: A Qualitative Study into How Students Use Historical Photographs to Make Sense of Residential Schooling in Canada. His research explored the ways students engage with photographs of Canadian residential schools in terms of three Historical Thinking Concepts: using primary source evidence; taking historical perspectives and understanding the ethical dimension of historical interpretations. The participants in Miles' research were grade 10 students who had already studied residential schools. In the study, students analyzed six historical photographs and took part in small group discussions and activities, which were designed to evaluate students' historical thinking.
Throughout the study Miles looked for the ways students used and interpreted photographs, both in terms of visual culture and historical thinking. He found that in this context the students found value in the photos as primary evidence, but when it came to historical perspective-taking or historical empathy students often had affective or sympathetic engagements with the children seen in the photographs. Students did however recognize the images as dealing with trauma and historical injustice, leading them to make ethical judgments. The photographs offered students many ways to think about the 'difficult' or traumatic past and engage in some aspects of historical thinking.
Miles' conclusions may be helpful for teachers preparing to use theories of visual culture in the classroom. For instance, his research found that images should not solely be understood as representations of the past. Instead they can be seen as interpreting, framing, and sometimes even contradicting our understanding of the past. The findings also showed that while an image's meaning may be constructed by its context and focus, it might also provoke unexpected or emotional responses among students that can be explored.
Thanks to James Miles for his involvement in this post and congratulations for completing this research – an inquiry that history teachers can easily put to use right away in extending historical thinking through activities with different kinds of evidence. For more information on James Miles' MA research and findings contact him at jmiles@sd45.bc.ca
And check out the HTC Blog!
How do you incorporate art, photos or visual culture into your history classroom and what historical thinking concepts do you see at work? How do you address perspective taking and historical empathy when teaching 'difficult histories'? In what ways can emotional responses to historical images be made valuable, especially in relation to historical injustices?
Photo: Sister of the Soeurs du Sacré-Coeur d'Ottawa supervising cutting an Aboriginal boy's hair in the classroom. Pukatawagan Reserve, Man. Circa 1960. Library and Archives Canada, PA-195124; no restrictions on use.