The Campbell House Story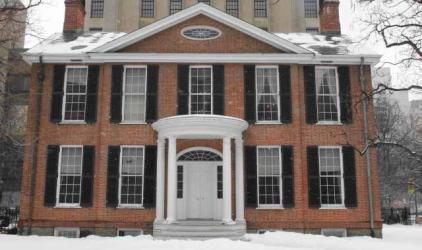 Single Thread Theatre Company was supported through a THEN/HiER Small Projects Grant in the development of its project The Campbell House Story, and the creation and distribution of educational resources based on the production. The project connected museum curators with teachers, students and theatre artists, and engaged theatre artists as stakeholders in history education.
Single Thread Theatre Company is a Toronto-based collective of theatre artists interested in the creation of found-space theatre. "Found-space" means a performance space outside of a theatre: a park, an empty factory, an attic, or perhaps an old mansion. Single Thread chooses these spaces based upon their historical and cultural significance and develops performances that attempt to reveal something new or forgotten about that locale. Single Thread has collaborated with Toronto curators to create relevant theatrical programming linked to the period or focus of museums, historic parks and galleries. The company draws upon the museum's archival material in generating content for their performances. Since 2010, the company has worked in partnership with the Art Gallery of Ontario, Spadina Historic House and Gardens, Zion Schoolhouse, Fort York, and the Toronto First Post Office. With The Campbell House Story, Single Thread marks the beginning of collaboration with educators to develop resources that will allow its historically significant productions to be analyzed and unpacked in the classroom.