Canadian Letters and Images Teacher's Guide now available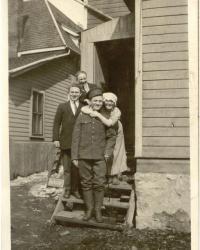 The Canadian Letters and Images Project began in 2000 as a means of making available to the public materials relating to Canada's war experience. This is an ongoing educational resource freely available to all Canadians. The objective of the project is to let Canadians tell their own story in their own words and images by creating a permanent online archive which preserves Canada's wartime correspondence, photographs, and other personal materials, from the battlefront and from the home front from any period of Canada's past. The letters are personal accounts of war that provide a unique perspective to reconstruct and to understand the Canadian war experience.
THEN/HiER provided funding for the development of lesson plans for teachers to use this rich database of primary source documents.
Access the Teacher's Guide (opens a PDF document).