Book Review: Family Ties by Andrea Terry (or More on the Challenges of Teaching with Museums)
Posted by
Cynthia Wallace...
15 February 2016 - 1:32pm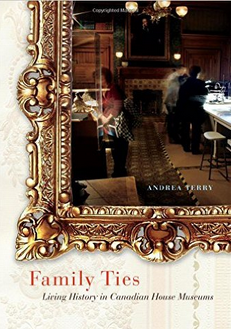 There's something about the experience of a Victorian Christmas that makes many of us feel warm and fuzzy inside. Our sense of nostalgia seems heightened by the festive season. Because of this, perhaps we're more prone to let down our critical lens on the past, and simply enjoy the visual candy. Surrounded by the sights, sounds, and smells of the season, we encounter compelling evidence to suggest that we can truly experience the past for real… as it once was.
Andrea Terry, however, in her publication Family Ties: Living History in Canadian House Museums (2015), dispels such nostalgia, as she closely examines the annual Victorian Christmas programs at three Canadian house museums: Dundurn Castle in Hamilton Ontario, Sir George-Étienne Cartier National Historic Site in Montreal Quebec, and William Lyon Mackenzie House in Toronto Ontario. With a keen eye for cultural hegemony, Family Ties delves down beneath the sugary surface, to reveal how interpretive Christmas programs in each of these living history museums are actually a product of present-day values, place-based politics, and nationalistic agendas.
Exposing what Seixas (2014) has described as "powerful emotional forces" (p. 12) in action, Terry (2015) demonstrates how the makers of these museums have orchestrated over time (either knowingly or unknowingly) common national narratives that "generate feelings of loyalty not only to the nation's past, but also its present" (p. 163). For example, in the case of Dundurn Castle, Terry points out how the Christmas program there "essentializes Canadian history as being distinctively British-based" (p. 72) and "upholds the primacy of 'founding nations' mythologies in Canada" (p. 73). Likewise, Sir George-Étienne Cartier National Historic Site evokes a similar "communal sense of cultural history… so that the present appears as the natural outcome of the past…" resulting in a "unified socio-political" narrative that appeals to both anglophones and francophones alike (p. 118). In the case of William Lyon Mackenzie House, Terry also reveals how the museum's programming normalizes "British values, customs, and activities," thus "advancing values associated with a core Canadianism and re-presenting their dominance" over other culture groups who actually live nearby (p. 156).
Terry's wish in revealing these narratives is not to undermine the value of heritage activities in our society – or banish Victorian Christmas programs from public history practise. Instead, her goal is to provide a critical lens for investigating how living history museums romanticise the past. She accomplishes this goal by adopting a methodology that examines the performance of history and treats museums as cultural tools. As a result, each of the three living history sites are analysed separately (and systematically), as individual case study units, according to three shared components: commemorative plaques, object-based exhibitions, and costumed interpreters. Her findings touch upon (and complement) many of the themes also discussed in Neatby & Hodgins' (2012) anthology Settling and Unsettling Memories: Essays in Canadian Public History.
From a pedagogical point of view, Family Ties presents us with yet another reminder as to why students require the disciplinary tools to challenge the historical narratives they encounter in everyday life. Rather than blindly accepting - and consuming – such narratives, Family Ties provides a convincing example as to how living history museums can serve as starting points for critical inquiry. As Seixas (2014) has pointed out, such sites of learning hold potential to function as tangible—and practical—locations where Historical Thinking can intersect with Heritage.
Works cited:
Neatby, N. & Hodgins, P. (2012). Settling and unsettling memories: Essays in Canadian public history. Toronto: University of Toronto Press.
Seixas, P. (2014). History and heritage: What's the difference? Canadian Issues/Thèmes canadiens, Fall, 12 – 16.
Terry, A. (2015). Family ties: Living history in Canadian house museums. Montreal & Kingston: McGill-Queens University Press.