Where are they now? Heather E. McGregor and history education at uOttawa
Posted by
Heather E. McGregor
8 December 2015 - 2:09pm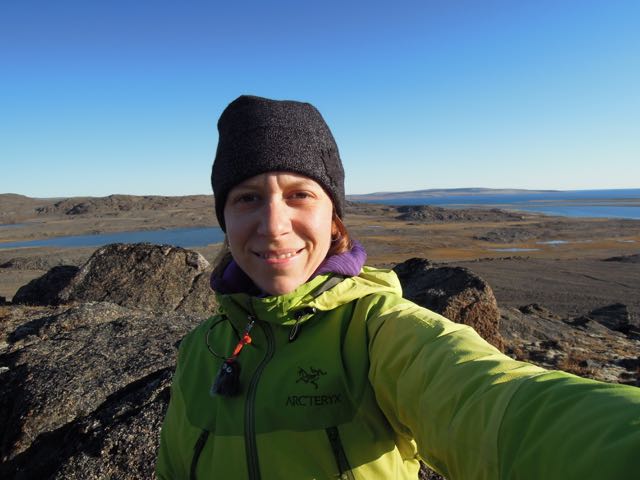 My study of history and education has taken me from coast to coast to coast across this country, and a few places in between. With the immense support of my supervisory committee, Penney Clark, Peter Seixas and Michael Marker, I completed my PhD entitled Decolonizing the Nunavut School System: Stories in a River of Time, at the University of British Columbia in March 2015. I also spent the last year of my studies in the role of graduate student coordinator for the anglophone students affiliated with THEN/HiER, following several years of involvement on the committee.
Now, I hold a two-year Social Sciences and Humanities Research Council of Canada Postdoctoral Fellowship at the University of Ottawa, where I work with Tim Stanley. I am also affiliated with the educational research unit Making History/Faire L'histoire, a community that includes several other THEN/HiER board members and regular members. But long before these recent events, members of THEN/HiER have been formative in my academic pursuits.
My post-secondary journey departed from my home by the Arctic Ocean on Baffin Island (Iqaluit, Nunavut), to which I have always returned during and between my studies. First, I went to the shores of Minas Basin off the Bay of Fundy in Wolfville, Nova Scotia. At Acadia University, in my first year, I took Canadian history up to 1867 with Margaret Conrad. As I handed in my final exam to Dr. Conrad at the end of term, she suggested I consider making history my major. Taking this advice, I decided to double major with History and English, and completed my honours thesis in the history department, writing about - what else? - the history of the Arctic.
I then moved to the edge of Lake Ontario in Toronto. After a year of work, I began a Masters of Arts in the History of Education with Ruth Sandwell at OISE. I embarked on the (rather outsized) project of documenting and synthesizing the history of Inuit education in the eastern Arctic, now Nunavut, until 1999. Upon completion of my degree, Dr. Sandwell encouraged me to pursue publication of my work, and it became the book Inuit Education and Schools in the Eastern Arctic (UBC Press, 2010).
I returned to Iqaluit and spent several years working with the Department of Education, Government of Nunavut. I had the opportunity to participate in groundbreaking and decolonizing curriculum and program change projects, many of which I have written about in past entries on this blog.
My next degree was completed near the Salish Sea/Pacific Ocean beaches of Musqueam territory, at the University of British Columbia, where I both lived and studied. I experienced two immersions at UBC. One was in historical thinking and history of education, thanks to the opportunity to work closely with Dr. Seixas and Dr. Clark in the Historical Thinking Project and THEN/HiER, as well as Anne Marie Goodfellow and my incredible student peers. My other deep learning experience came from the incredibly welcoming community of Indigenous and ally scholars at UBC, particularly Dr. Marker and Dr. Jo-ann Archibald. I am grateful for the opportunity to learn what Indigenous education might look like in other regions of this country. Lastly, one of the most interesting and unique projects I participated in during my time at UBC, with the support of THEN/HiER, was the development of the Great Unsolved Mysteries in Canadian History website The Franklin Mystery: Life and Death in the Arctic.
Along my journey I learned how much of a difference it makes to receive individual mentorship from scholars, as well as opportunities to interact with groups of researchers, as was the case during the many events organized and funded by THEN/HiER. I greatly appreciated the communication, collegiality and partnership building nurtured through the network, amongst university-based history educators and with communities far, far beyond.
Now I am living by the banks of the Ottawa River, aware of myself being and working on unceded Algonquin territory, in our country's capital. The University of Ottawa has been a very welcoming community for me, with so many scholars interested in history and education, and with a new focus in the Faculty of Education on Indigenous engagement. I have been able to offer numerous presentations at uOttawa this fall on Inuit education and my previous research, build connections towards a new research program, and initiate relationships with the Inuit and Algonquin communities around this city/region. In January, I will be teaching in the BEd program and continuing to design a research agenda. I am now focused on exploring how historical consciousness, decolonizing, youth leadership development and climate change education are intersecting in a unique, interdisciplinary polar program called Students on Ice.
Along the way, my focus has been on exchanging stories about history and education amongst Canada's Southerners and Northerners. Wherever I am, I hope to engage closer connections between people from the Arctic and Canada's other regions, creating opportunities to listen, exchange and learn.