Approaching the Past: Queen Elizabeth Park and Bloedel Conservatory, Vancouver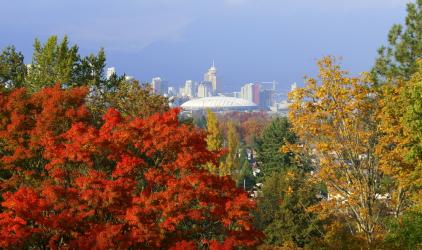 This Approaching the Past event was held on Wednesday, April 29 from 5:30 to 7:30 pm.
Vancouver Park Board Chair, John Coupar, and VanDusen Botanical Garden Governor, Vicky Earle, gave a tour of the Bloedel Conservatory and surrounding Gardens at Queen Elizabeth Park. Participants learned about the history of the park and iconic conservatory, the techniques used in the recent roof restoration project and unique stories of the lives of the plants and birds that call Bloedel home. Mr. Coupar and Ms. Earle are both well known for their successful efforts to save the Bloedel Conservatory in Vancouver as Directors of the Friends of the Bloedel Association.
John was elected as a Vancouver Park Board Commissioner in November 2011. He is a Past President of Friends of the Bloedel Association and a Past Governor of VanDusen Botanical Gardens. John is a passionate advocate for horticultural excellence in parks and green spaces. His passion for Vancouver and its park system are a result of spending time with his father as a youth. His father Charles was a renowned horticulturalist who served the Vancouver Park Board for 42 years and had a major impact on the development of Vancouver's park system.
Vicky was the Director of Public Relations and also a Past President of Friends of the Bloedel Association. She is currently a Governor of VanDusen Botanical Gardens and sits as Chair of the VBGA Bloedel Committee. Her passion for the Bloedel Conservatory stems from her love of tropical rainforests and the research she has done for educational projects as a scientific/natural history illustrator. She has been involved with numerous programs and events to engage the public with the Conservatory including the successful Bloedel Guide program, the 45th Anniversary Bubble Bash and the Jewel Box of Lights.
Photo: Husky22 at wikivoyage shared, via Wikimedia Commons