Approaching the Past: History of South Main Street, Vancouver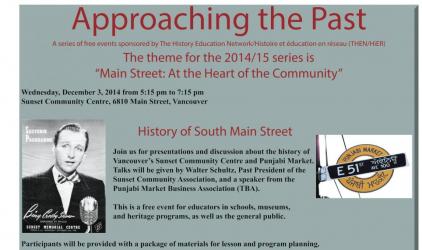 This Approaching the Past event was held in Vancouver on Wednesday, December 3 at the Sunset Community Centre. In line with this season's theme, "Main Street: At the Heart of the Community," presentations were given by Walter Schultz, Past President of the Sunset Community Association, and Daljit Sidhu, President of the Punjabi Market Business Association. Walter focused on a time capsule buried during the construction of the original Sunset Memorial Centre unearthed at its demolition, which includes items from a 1948 show featuring Bing Crosby who came from Hollywood to support the building project. Daljit spoke about the origins of and recent changes to the Punjabi Market shopping district.
See the attached poster for additional details.