Archives, Primary Sources and Critical Thinking
Posted by
Emily Chicorli
21 October 2014 - 4:44pm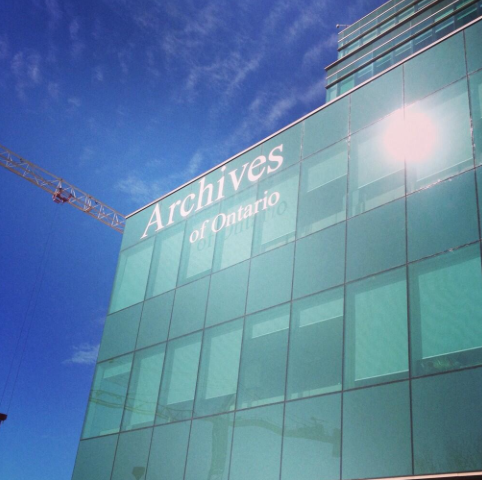 Similar to bringing students to an actual museum or historic site, bringing records of events and history to students enables them to get a better understanding of historical content, enables them to critically think about the implications of these records, and asks them to analyze components of records otherwise left alone in a textbook or worksheet.
As I mentioned in my earlier post, it is very important for teachers to inform students about the types or genre of the primary sources they are analyzing. For example, if you are showing your class a collection of photographs from a website, make sure to underscore that these "primary sources" are photographs, photographs taken at a particular time by a particular person and are now held in an organization, such as an archive or university library. Ask your class, why were these photographs taken? What do the photographs show? What do the photographs not show? Why do you think these photographs were kept? These questions can also be used if you are analyzing letters. Who wrote the letter? Why was the letter written? How was the letter written (comparing and contrasting how we communicate today)? These types of questions build upon the content students learn. Yes, students will learn about immigration to Canada, for example, and photographs, letters, films and other valuable sources, will help students better understand events. However, the deeper level of critical thinking emerges once you ask students to really interact with the primary sources/records.
As a recent graduate of York University's Bachelor of Education program and a candidate for a Master of Archival Studies at the University of British Columbia, I understand that teachers have a lot of work to do, so finding the time to search and collect these primary sources from reliable sources is very time consuming, especially if you are not familiar with how archives are organized (stay tuned for my next post where I go through the basics of finding information in an archive, teacher edition!). Luckily, there are a lot of institutions, educators, and archivists who are promoting the use of these sources in classrooms and have come up with great resources for teachers. Below is a small list, but searching online or in your library will bring up many results for learning to integrate primary sources into your curriculum.
One institution that I would like to highlight is the Archives of Ontario, located in Toronto, Ontario. The Archives of Ontario (AO) has collected, managed and preserved the records of the Government of Ontario since 1903, as well as acquisitions from private donors. More recently, they have expanded their educational outreach efforts momentously. Over the summer I had the wonderful opportunity to sit down with Samantha Cutrara, the Senior Coordinator of Educational Programming and Exhibitions at the AO, to learn more about their educational programs. Dr. Cutrara showed me the modern facilities where the programs are held and explained all the fantastic work the AO does with schools in Ontario and abroad.
In regards to programs, the AO offers onsite education workshops, which means teachers can bring their class to the archive. They have programs for Grades 3 all the way up to Grade 12, ranging from primary source focused workshops that look at how history is preserved and used today, to content focused workshops that include activities related to the War of 1812, settlers and immigration, black Canadian history in the archives, and Word War One.
You don't live in the province? Well the AO also has online lesson plans with a range of history and social studies lesson kits for Grades 3-12, as well as online exhibits that feature primary source material from the AO's collections. What is so fantastic about these resources is that they align with the Social Studies, History and Canadian and World Studies curricula and emphasize the skills of historical inquiry, interpretation, and analysis. You can search kits and lessons by grade or by theme (themes include children, early Ontario, diaries and letters, politics, geographic history, and more).
Okay -- teachers, educators, archivists, interested readers -- it gets better. The AO also provides travelling workshops. The AO offers six workshops for students from Grades 3 to 12 that include students exploring content and building skills.
Did I mention that all programming is free?
The AO also focuses resources specifically for teachers. On the Professional Development page on the website, there are professional development resources, teaching resources, links to other online exhibits of interest, word/PDF posters and documents for your classroom that discuss what an archive is, archival vocabulary for elementary students, and more.
Currently, the AO just opened a new exhibit entitled, Dear Sadie – Loves, Lives, and Remembrance from Ontario's First World War, that can help extend social studies and historical curriculum:
"The exhibit tells the stories of four ordinary Ontarians faced with an extraordinary event. In their own words, a soldier in the trenches, a surgeon in the field, a pilot in France and his sweetheart in Toronto tell of the compassion and the frustration, the horror and the heartbreak caused by the Great War. Life-sized imagery, powerful graphics and poignant personal accounts will immerse visitors in a world on its deathbed – while reassuring them of the strength and resilience of the human spirit. Don't miss this compelling commemoration of Ontario's First World War. Admission is free."
The AO is a great example of an institution using primary sources to engage students with history and critical thinking of historical concepts, events, persons, and records. I definitely recommend viewing their website for more information to start learning how you can incorporate primary sources in your lessons.
I would also like to highlight the educational outreach efforts of the Clara Thomas Archives and Special Collections at York University, also located in Toronto, Ontario. The Archives and Special Collections supports critical thinking and engagement at the undergraduate and graduate level. Not only is archival content used to strengthen course content, classes are also brought to the archives to learn about how records are kept, what the archives do, and how students can incorporate primary sources into their research. Watch their recent video entitled, Engaging Minds with Treasures from the Past: Clara Thomas Archives at York University Libraries, on the work they do at the archives.
Many other archival institutions and records centres are doing this kind of educational outreach. I encourage you to look for these programs, and I encourage organizations to promote the wonderful efforts and progress they are making when it comes to educational outreach.
Do you know of any other organizations that provide these types of resources? If so, tell us more in the comment box below!
Integrating Primary Sources Resources
Using Primary Sources in the Classroom by the Library of Congress
and more
Engaging Students with Primary Sources by the Smithsonian's National Museum of American History
Using Primary Sources in the Classroom by Kathy Schrock
The Archives of Ontario's Professional Development Page
The Teaching with Primary Sources Journal by the Library of Congress
Teaching with Documents by the National Archives (U.S.)
Teaching with Primary Sources by the Smithsonian
Photo credit: Emily Chicorli