Approaching the Past: Vancouver Police Museum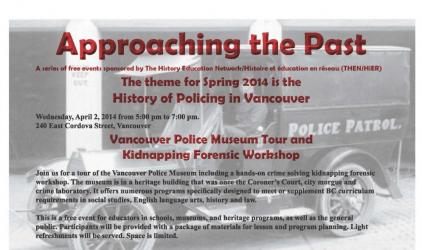 Approaching the Past
A series of free events sponsored by The History Education Network/Histoire et éducation en réseau (THEN/HiER). The theme for Spring 2014 is the History of Policing in Vancouver
Wednesday, April 2, 2014 from 5:00 pm to 7:00 pm.
240 East Cordova Street, Vancouver
Vancouver Police Museum Tour and Kidnapping Forensic Workshop
This event was a tour of the Vancouver Police Museum including a hands-on crime solving kidnapping forensic workshop. The museum is in a heritage building that was once the Coroner's Court, city morgue and crime laboratory. It offers numerous programs specifically designed to meet or supplement BC curriculum requirements in social studies, English language arts, history and law.
This was a free event for educators in schools, museums, and heritage programs, as well as the general public. Participants were provided with a package of materials for lesson and program planning.
See the poster for more details.
Photo: City of Vancouver Police Patrol Vehicle, 1914 or 1915. City of Vancouver Archives A-30-69