From Dachau to Calgary: The "Understanding Atrocities" Conference
Posted by
Laura Cohen
23 Mars 2014 - 4:12pm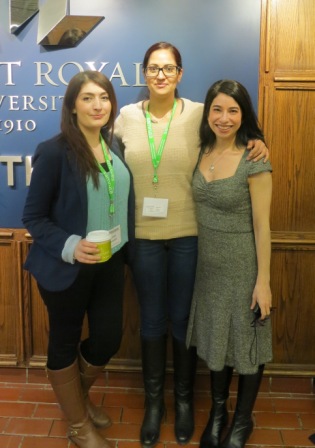 We are reminded that history is alive constantly: by governments, the news, on the web, on television, in school—the list goes on. And yet, to fully appreciate the role that history plays in our contemporary lives, sometimes a powerful reminder comes our way. For me, it was the opportunity to participate in Mount Royal University's "Understanding Atrocities" conference that took place in February 2014.
Snuggled into the frozen and mountainous landscapes of Calgary, the conference was a unique opportunity for me on a few levels.
First, I had the opportunity to share my ongoing research about the Srebrenica-Potocari Memorial Center and Cemetery to the Victims of the 1995 Genocide in Bosnia i Herzegovina (BiH) and to receive invaluable feedback from fellow scholars.
Second, I had the good fortune to meet scholars and students from around the world and discuss a multitude of issues relating to teaching, understanding, and dissecting the dynamics involved in genocide and mass atrocities as well as the complexities, ironies, and issues with post-conflict reconciliation efforts taking place in the aftermath.
As a long-time genocide studies student and rising memorialization scholar with extensive field research and volunteer work under my belt, I have traveled to a great many countries and regions around the world. In every country I have spent time in, my foundational interests in memorialization, history, and specifically, sites of atrocities, always entice me to learn more about and interrogate the history of the peoples, places, and cultures I have the good fortune to visit. My passion in learning about the past is fueled both by my intense appreciation of history as well as its intimate connections to the global society in which we now live. For me, though, understanding history is also deeply connected to my own personal identity.
For while my parents inherited their parents' experiences of flight from the pogroms of Eastern Europe at the start of the twentieth century, I, in turn, inherited my parents' own fears about the Holocaust (just a generation before them) and how all the anti-Semitism they faced in New York while growing up was intimately situated within the deaths of six million. Israel and the Holocaust overshadowed all of my childhood Hebrew school studies.
I learned that I had a duty to be proud that I was Jewish because I was alive. I learned that I was the future of the Jewish people and that I must be strong in my identity and my faith no matter what happened. I also learned to hate Poland and Germany because they were places of death. Yet, I was constantly reminded that I was an outsider: one of two Jewish kids in the entire fourth grade who had to leave class twice a week to take a small bus to go to Hebrew school.
And there I learned what could happen in horrifying detail, over and over. When I was eight or ten years old, my teachers would screen documentary footage of dead bodies strewn about concentration camps. Emaciated bodies staring forlornly into and past the camera. The tentacles of flames greedily lashing out from the fiery ovens. The table in front of the ovens where the men plunked down several corpses in a row. A large guillotine-like object slicing off the heads. The heads falling into big baskets near the floor. The severed heads and bodies stuffed into the ovens. Those images are seared into my brain in such a way that I lost, a long time ago, the ability to be disgusted, horrified, and tortured by them. They are just there. Still here. Forever lingering.
In 2011, I went to Poland for the very first time, going by myself so that I, and I alone, could update my memory, independent from the Jewish narrative of victimization in which I was raised. The trip followed four months of fieldwork in BiH where the majority of my time was spent visiting atrocity sites, concentration camps, killing fields, slaughterhouses, and rape camps. I saw a different Warsaw than what I remembered from my Jewish schooling three decades earlier. It was a modern city in many parts—something right out of The Economist magazine. People were very courteous to me when I asked directions even though I knew that Polish anti-Semitism still exists.
The trip to Poland was about leaving my demons and emotional baggage behind—at Auschwitz-Birkenau. A place I knew (and know) like the back of my hand yet had never been. It took all of my spiritual, psychic, and physical strength to summon the courage to get on a bus and journey deep in the countryside. One that was now familiar to me based on all the time spent in Bosnian villages that share a similar Slavic orientation.
I wandered the property with a single female guide beginning early in the morning. Our first walk was in Birkenau. It was cold and damp. I was under-dressed and uncomfortable. Shivering. The sun did not shine and the air was wet with dew. The mist rolled over the fields alternately covering and revealing different parts of the property each time I turned my head. She and I were alone for a good part of the morning and that suited me just fine.
What I found was what I imagined it would look like, except the scale was much more massive in person. And I saw it all through very different eyes: through the lenses of memorialization, of space, of place, of interaction, of imagination, of reality, of authenticity, of fabrication, of dark tourist attraction. And of an American woman who is also Jewish. A bizarre, macabre and spectacular location to which thousands make the pilgrimage from across the globe, fueling the local economy of the depressed town in which the site is located: Oswiecim.
A place, in a great many respects, that is similar to Srebrenica, BiH. Parts of Auschwitz-Birkenau were horrific while other parts amazing. Yes, amazing. The country-specific installations in individual barracks, each beautifully designed, heart-wrenchingly intimate, and politically consistent with each country's master mnemonic narrative about the Holocaust. Those exhibits alone make me want to go back and spend more time in them.
The very last thing I saw in Auschwitz "proper" was the gas chamber. All my memories swelled up within me and I hid behind my camera to avoid some of the oddest sensations I have ever felt in my body. I lived. I am here. And more convinced than ever that the story I must tell is why the past lives on and how we have the opportunity to re-shape its memory to effect change in the future.
For a few years afterwards I still had my "Auschwitz shoes" I wore that day. Nobody understood what I meant when I referred to them as such. I also knew that for a long time the mud of that place was still on them. And when they were finally too dirty and rundown to keep wearing, I exhaled a huge sigh and placed them carefully in the trash. Because, I had a new pair in the exact same style that were ready to be broken in. This pair—ready to fill with new memories. All the while always remembering the ones I left behind.
This deeply personal journey into my past also confirmed many of core beliefs about human equality that now shape my adulthood. That "official" history and collective national myths cannot be a reason to continue violence no matter what the reason. My grounding as a devoted human rights advocate and activist continually remind me that using violence to refute historic and contemporary violence is not a solution. Rather, it is an insidious invitation to keep the brutal cycle going.
Whatever the political context may be, human rights violations must always be recognized for what they are—inexcusable gross disrespect and animosity by a powerful group against another —people wrongly categorized as the other, the hated, the dangerous. Genocide does, in fact, continue. In how we relate to its memory, how we actively engage with its survivors, and how we respond to future outbreaks.
All of this brings me squarely back to the "Understanding Atrocities" conference. The conference included a potent reminder of how this paradox continues to operate in our interconnected society. The exhibition, "Names Instead of Numbers," consisting of large banners featuring biographies of numerous Dachau Concentration Camp inmates who perished there during World War II, provided a symbolic backdrop for conference attendees. The banners literally glowed as streams of sunlight illuminated the room in which the exhibition was installed. And the radiance of these voices from the past followed us into the conference rooms throughout the three-day event.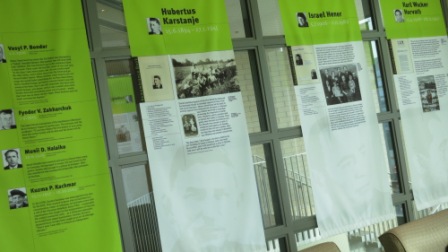 The voices of Dachau's prisoners, from a distant time and place, also underscored how history is alive, albeit within an entirely different cultural and political context. The genocide committed against the First Peoples across North America is an area within historical genocide studies I know little about and what I learned in the conference's proceedings shocked me.
Nonetheless, because I arrived to and departed from Calgary at night, the poignant metaphor of the local streets, highways, and areas lit up by lampposts—with names derived from the indigenous populations that used to live there—was not lost on me. The conference opened and closed with intensely powerful offerings to and blessings by a female Elder from the Blackfoot tribe. Her sentiments resonated within me throughout the three days of panel discussions and plenary sessions. I can still hear her powerful, beautiful, and melancholic voice.
Most importantly, her message encapsulated what the "Understanding Atrocities" conference was ultimately about:
History is very much alive and by recognizing its power, we—individually and collectively—have the opportunity and the responsibility to change our future.
How do you deal with genocide in your history lessons?
Author's Photos: Conference participants Gulstan Abuzeyit, Jessica Chandrashekar, and Laura Cohen; "Das Gedächtnisbuch für die Häftlinge des KZ Dachau"/ "Names Instead of Numbers" Exhibition.