April 2014 Teaching the Past Blog Contest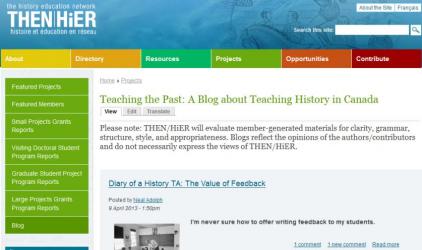 THEN/HiER invited its members to engage with a major issue in history education (for example, one of the Controversies from our website, or another issue) by blogging about it. Blogs were judged by members of THEN/HiER's Executive Board based on the following criteria:
• Insightfulness
• Persuasiveness
• Use of evidence to support the blogger's position
• Clarity of expression
• Current relevance
First prize for the blog contest went to Cynthia Wallace-Casey for her article Keeping It Real, which discusses the debate about changing the name of the Canadian Museum of Civilization to the Canadian Museum of History. Second prize winner Mary Chaktsiris wrote Renewed History Wars: 21st Century Commemoration in Canada, which addresses the issue of commemoration in Canadian history education.
Cynthia chose as her prize a copy of Je me souviens? Le passé du Québec dans la conscience de sa jeunesse (2013) by Jocelyn Létourneau.
Mary chose a copy of Pastplay: Teaching and Learning History with Technology (2014) edited by Kevin Kee.