The Pedagogical Imperative of Cultural Heritage Institutions: Or, How I Came to Love Dorothy's Ruby Red Shoes (Brenda Trofanenko)
Brenda Trofanenko, Canada Research Chair in Culture, Community, and Education, School of Education Acadia University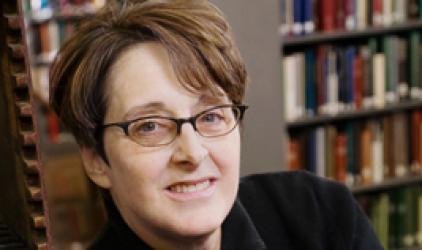 My recent return to Canada as a Canada Research Chair in Culture, Community, and Education at Acadia University has provided an opportunity for me to continue a research program that began in Canada more than a decade ago. For the last ten years, my research has focused primarily on the pedagogical role of cultural heritage institutions, specifically public museums and archives. Even as I begin this 'new' phase of my academic career, my interests in museums and archives remain and will continue to form the basis of my research program.
It was almost by accident that I came to consider cultural heritage institutions as pedagogical sites. During graduate school at UBC, I was a member of a research consortium located at the University of Washington that evaluated public educational programs for institutions supported by government funds. It was initially suggested during my doctoral studies that I consider evaluating museum programs. I was hesitant. It wasn't until a visit to the Glenbow with my mother that my interests in the societal role museums play became a focus. My mother recognized a diary (later identified as one belonging to her mother) on display in an exhibit and was uneasy about the public display of an excerpt from what was once private writing. The displayed diary contributed to the exhibit's Western Canadian history narrative. Yet, for me, it highlighted a tension concerning museums and how disciplinary knowledge is defined through exhibitions. Shortly after this experience, I came to realize how strong and secured a position museums hold in society. Each contributes to defining disciplinary knowledge and boundaries; each advances a specific educational imperative; and, each receives public affirmation about their societal (and educational) purpose. But that experience also drew attention to how a museum continues to be an institution that seeks to remain relevant to the public it purports to represent.
Certainly, public history museums will continue to exhibit and display past events. But many museums are now presenting exhibits that deal with challenging and difficult experiences. My interest has turned to how such exhibits address traumatic events, and how museums are emotional spaces in addition to being educational spaces. This area of research invites me to return to the theoretical 'upbringing' of grad school where I worked with a supportive group of professors at UBC including Derek Gregory (Geography), Michael Ames (Anthropology), and Mark Phillips (History). I am also interested in how concepts such as race, culture, and nation are conceptualized in public spaces and the emotional ties various groups hold to such concepts.
A new area of interest is that of digital humanities and the various trends impacting the public museum's mission. This interest took hold while at the University of Illinois Urbana Champaign where I was a faculty fellow at the National Center for Supercomputing Applications while employed in the College of Education. As museums attempt to adopt technology, each faces the necessity to understand how significant various technologies utilized by museums will be over the next five years. The Horizon Report identifies the need to examine how 'rich' media relate to their collections, and how museums digitize their content, utilize social networks, and revisit their roles as educators through open content. More recently, I have begun to understand how various communities (or constituents) are utilizing digital technologies within public museums as educational tools, and am seeking to advance my own understanding of digital humanities, thanks, in large part, to attending the frequently-held Technology and Humanities Camps organized by the Center for History and New Media at George Mason University.

Although I reside in Canada, my research includes various museums in the United States as research sites. In particular, I continue a research project at the National Museum of American History where I examine the role of the museum in brokering meaning of the past between generations. I am there frequently and I always take time to look at the ruby red shoes from the Wizard of Oz on display and attempt to understand their popularity. I must admit … they are stunning!
I am currently writing various manuscripts for publication, planning a workshop to bring various scholars together to discuss the emotional spaces of learning; preparing paper presentations for conferences in Canada, the United States, and the European Union; and writing research grants.