A Landscape Level Archaeological and Ethnographic Analysis of the Inland Lifeways of the xáadáa / Haida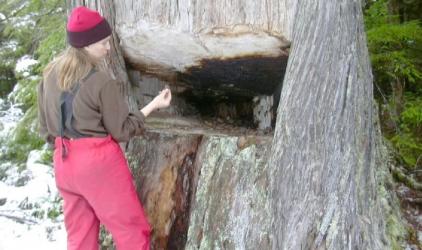 Karen Church, Master's student at the University of Calgary in Archaeology, received THEN/HiER a Graduate Student Projects grant to present her current research at two conferences: the Association of Universities for Northern Studies (ACUNS) Student Conference, in Val D'Or, Quebec, November 1-3, 2012; and the Canadian Archaeological Association Annual General Meeting and Conference, in Whistler, BC, May 15-19, 2013. She hopes that her research and presentations will create dialogue on contemporary aboriginal issues in the broader public arena. She contends that the social issues of First Nations communities are significantly tied to the loss of the cultural archive of the people, when up to 90 per cent of the population of many groups (or more in some cases) died from epidemic diseases of the early and later contact period. While the residential school experience has also had a significant impact on these societies, it is the trauma of losing so many people and so much cultural information that has been equally, if not more difficult, to integrate socially. First Nations cultures had mainly oral traditions and therefore cultural information was held within the minds of the people, passed down through the generations. Not all of this information was passed down when the epidemics struck. Her research brings this to light, because she looks at a time in the history of a First Nation, prior to contact, prior to the diseases, and prior to changes in the trade systems and lifeways.
'waadluuwaan xaadaas Archaeology / Archaeology for all people The Development of an Educational Field Trip for local high school students at yan 'llnagee / Yan Village site
Publication, (2011) k'yuwaatl'aagee / The Haida Gwaii Trails Strategy.