Seeking Social Science Teachers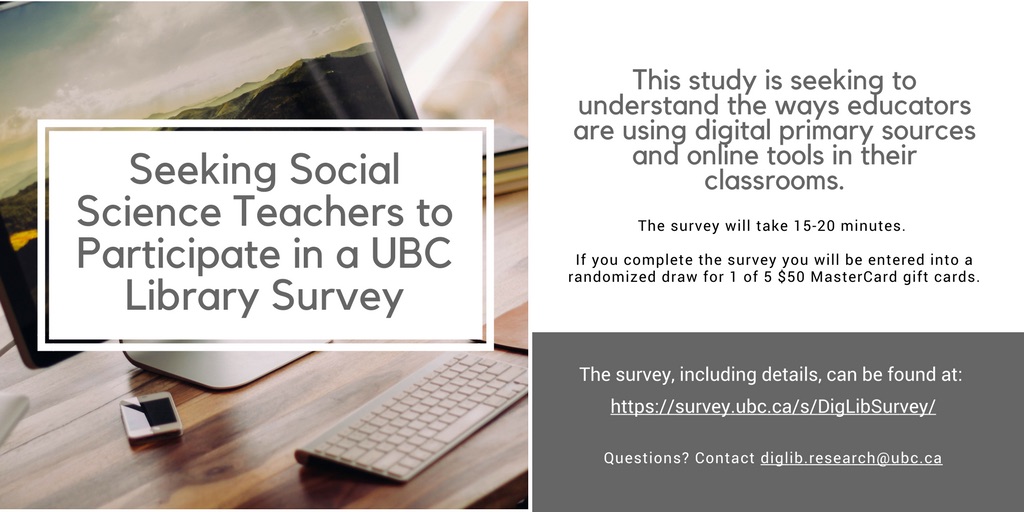 We are seeking grade 4-12 social science teachers to participate in a UBC study.
We would like to understand the ways educators are using digital primary sources and online tools in their classes and the types of experiences they are hoping to inspire in their students when using primary sources:
Do social science teachers use primary sources?
Why do or don't you use primary sources in your teaching?
What student experiences do you plan when using primary sources?
Do you use primary source web-based tools and if so what criteria do you use when selecting them?
To answer these questions and to think about the ways that digital primary source libraries can be developed for use in classroom environments, we are seeking responses to the following survey.
https://survey.ubc.ca/s/DigLibSurvey/
The survey will take approximately 15-20 minutes of your time.
Your participation is voluntary and will be kept confidential. If you complete the survey you will be entered into a randomized draw for 1 of 5 $50 Mastercard gift cards. There are no anticipated personal risks associated with your participation.
The study runs from September 2017 onwards. If you have any questions about the study, please contact diglib.research@ubc.ca.
Erin Fields, BA, BEd, MLIS
Principal Investigator
The University of British Columbia Library